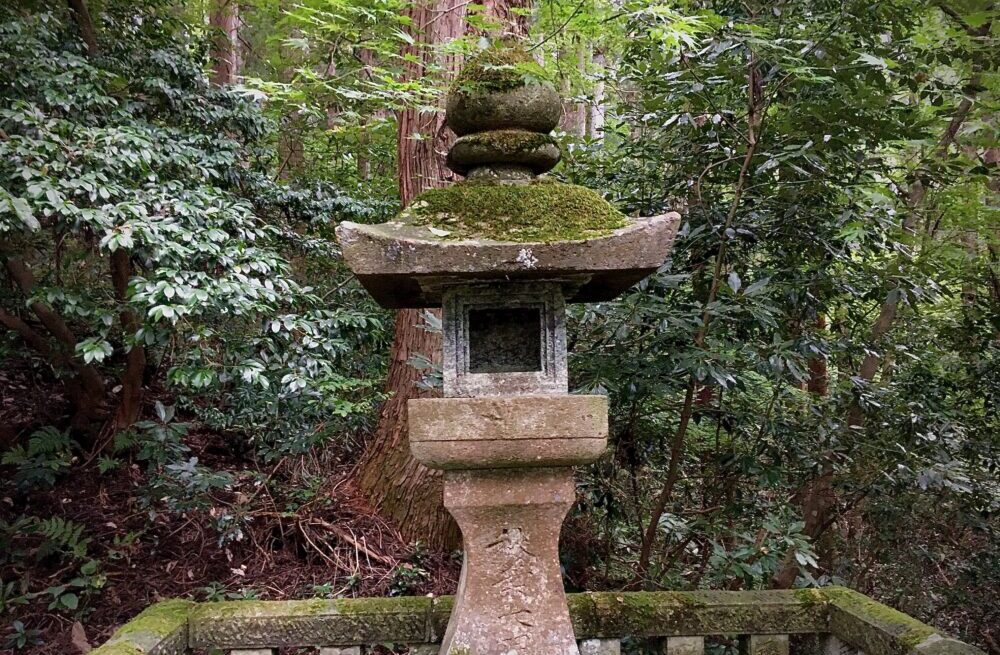 Forest and mountains are a great combination to relax. Walking around and letting go of all the stress of the week is just wonderful and so important to stay normal in this crazy world.  This is not only true in Germany, but also in the rest of the world and, therefore, also here in Japan. There are enough forests and mountains here, you just have to get up and get out of your own house.
Fortunately, last year I managed to do this quite often. I discovered and explored places that I quickly fell in love with and visited several times. For example, the Kamoyama Park 加茂山公園, where I strolled around twice.
Since it rains so much on our archipelago, even after a hot summer the trees are fresh and green, just like in the middle of spring! If you get yourself into the forest, like I did, you can observe and enjoy all this wonderful green splendor from many different angles.
The very special atmosphere here is also created by the man-made shrines, which often add a mystical, if not romantic touch to the green and lush scenery. The older, the better. The more bewitching. You might almost say magical and you would be absolutely right!
Nature and  mankind  seem to have already entered a symbiosis and harmonize with each other. Since not too many people come and disturb this harmony, time seems to stand still here. Everything is in calm balance and you are immediately invited to quietly join in. Whether off to the side or in the middle is up to you, but the main part of this show is played by someone or something else.
The less people are around, the stronger the spell works. Sometimes it seems as if magical creatures or forest spirits could do their mischief here. You almost forget that it was people who built this place.
Just take a deep breath and feel inside yourself; perceive and absorb the sounds and smells around you. Don't rush on immediately, but pause for a moment.  Look closely to the left and right, up and down, and then go back again and take a closer look. Now turn around again and stand still. Try to savor the moment, to save the impressions, and take them with you. So you will be able to feel them again later.
Let me take you with us on our trip! I hope this picture gallery will enchant and relax you. I will try to recreate something of the magic of these places, which has a very special effect on me.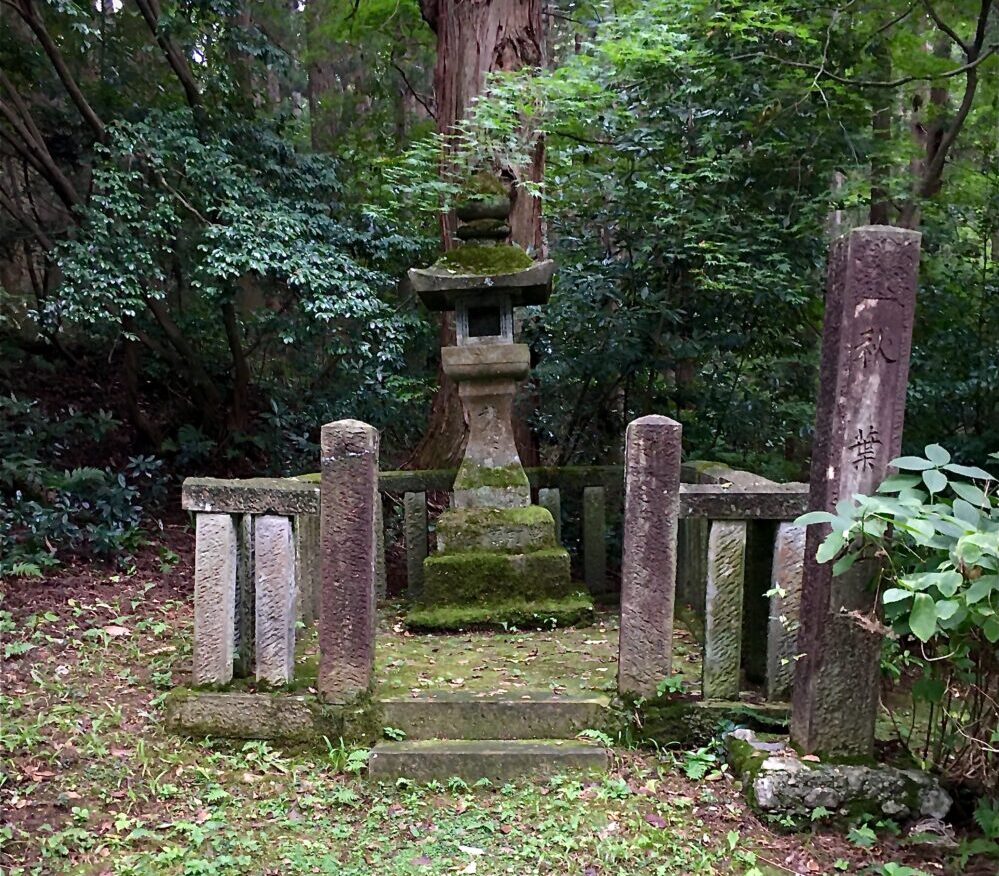 DEUTSCH
Wald und Berge sind eine wundervolle Kombination um sich zu entspannen. Einfach mal abschalten und den ganzen Stress der Woche von sich abfallen zu lassen ist einfach herrlich und so wichtig, um in dieser verrückten Welt noch normal zu bleiben. Das gilt nicht nur in heimischen Gefilden, sondern auch im Rest der Welt und deshalb auch hier im fernöstlichen japanischen Inselreich. Wald und Berge gibt es genug, man muss sich nur bewegen und die eigenen vier Wände auch mal verlassen._
Im letzten Jahr ist dies uns zum Glück relativ oft gelungen und wir haben Orte entdeckt und erkundigt, welche wir schnell ins Herz geschlossen und daraufhin wiederholt aufgesucht haben. Wie den Kamoyama Park  加茂山公園, durch den wir zwei Mal gepirscht sind.
Da es bei uns im Inselreich nun wirklich genug regnen tut, ist es auch nach dem heißen Sommer noch überall grün und es sprießt wie zu besten Frühlingszeiten. Und wenn man sich dann so wie wir auch einmal in den Wald verirren sollte, kann man diese ganze herrliche grüne Pracht aus den unterschiedlichsten Winkeln selber betrachten und genießen.
Ein ganz besonderes Flair zaubern dann die vom Menschen gemachten Schreinanlagen hinzu, welche oft einen etwas mystischen, wenn nicht sogar romantischen Touch dazu malen. Je älter, desto besser. Je bemooster, desto verwunschener, könnte man fast sagen und hätte damit einfach nur Recht.
Die Natur und das Menschengemachte scheinen bereits eine Symbiose eingegangen zu sein und problemlos miteinander zu harmonieren. Da auch nicht zu viele Menschen hier störend diese Symbiose auflösen könnten, scheint hier ein wenig die Zeit still zu stehen und niemand wartet hier auf irgendetwas. Alles ist in ruhiger Harmonie und man wird sogleich eingeladen, sich leise dazuzugesellen, ob Abseits oder mittendrin ist jedem selbst überlassen, aber die Hauptrolle übernimmt hier jemand oder etwas anderes.
Je weniger Menschen in der Nähe sind, desto stärker wirkt der Zauber und manchmal wirkt es, als könnten hier Zauberwesen oder Waldgeister ihr Unwesen treiben und man kommt fast dazu, zu vergessen, dass es ja doch Unsereins gewesen ist, der diese Anlage hier hingebaut hat.
Einfach mal richtig durchatmen und in sich fühlen. Die Geräusche und auch Gerüche um einen herum wahr- und auch aufnehmen. Nicht gleich weitereilen, sondern mal richtig innehalten.  Nach links und rechts, oben und unten, und dann auch noch mal zurücklaufen und genau hinschauen. Und ruhig immer wieder umdrehen und stehenbleiben. Die Reihenfolge bestimmt der Augenblick aber dies alles hilft, um die  Eindrücke abzuspeichern und mitzunehmen. Denn man wird sie später noch oft gebrauchen können.
Lasst euch einfach mitnehmen! Vielleicht schafft es ja meine kleine Bildergalerie, euch ein wenig zu verzaubern und dabei auch zu entspannen. Denn Entspannung ist etwas von der Magie dieser Orte, die bei mir ganz besonders wirkt.
Take a walk with me


Inside Kamoyama Park are several shrines and the biggest is Oumi shrine 青海神社. The entrance to that shrine is already very promising and inviting. Who can resist the temptation to walk up the stairs?
Im Kamoyamapark befinden sich mehrer Schreine und der größte davon ist der Oumi Schrein 青海神社. Der Eingang zu dieser Schreinanlage war bereits sehr vielversprechend und einladend. Wer kann den hier widerstehen, die Treppen nach oben laufen zu wollen?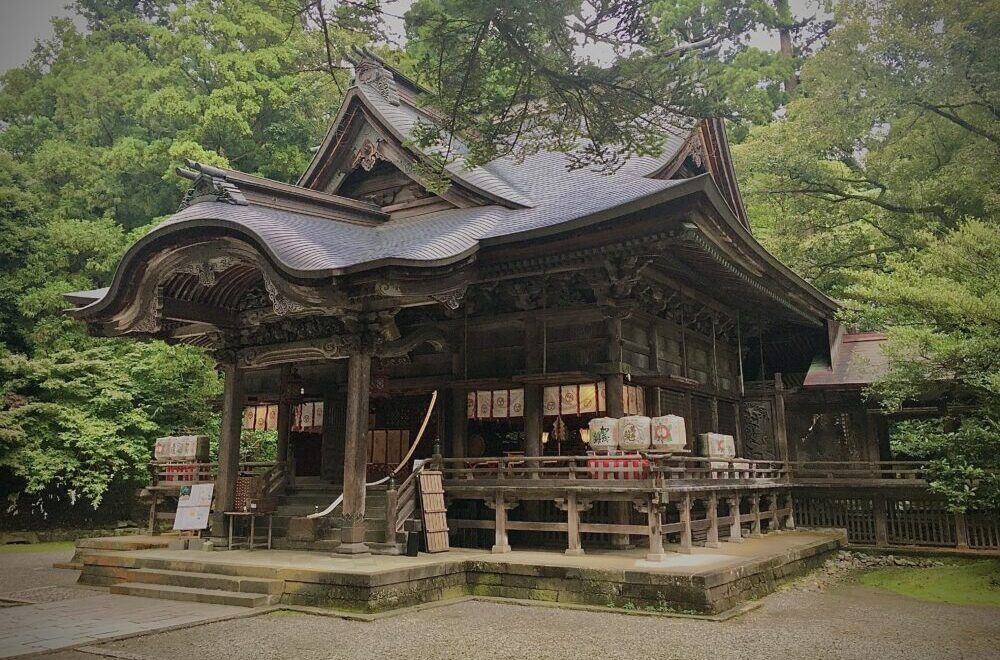 The main shrine is somewhat larger and next door there are also various outbuildings, but those too  fit in perfectly with the landscape.
Der Hauptschrein war schon ein wenig größer und hatte nebenan auch noch verschiedene Nebengebäude zu bieten, welche sich aber auch perfekt in die Landschaft eingepasst haben.


These small statues are lamps. They are illuminated on special occasions and probably give the whole place an even more beautiful look.
Diese kleinen Statuen sind Lampen, welche zu besonderen Anlässen erleuchtet werden und wahrscheinlich dem ganzen Ort einen noch tolleren Anstrich verpassen.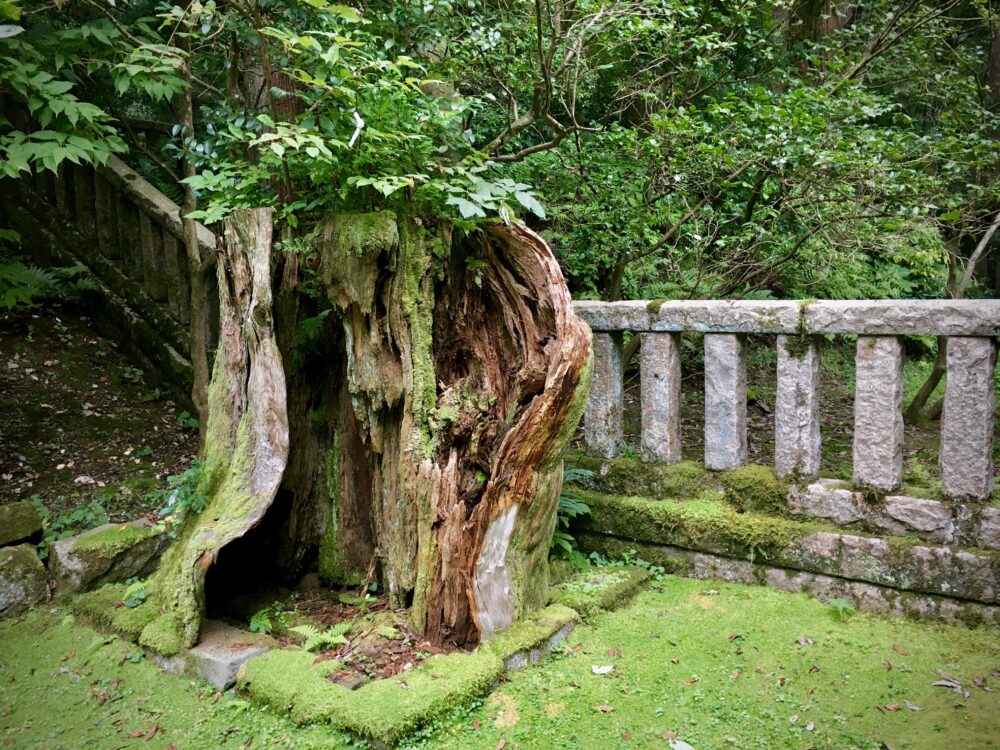 From old comes the new. Here, from this old tree stump a new tree has grown. One day it will be able to tell its own story.
Aus alten Leben kommt das Neue, so wie hier aus diesem alten Baumstumpf, aus dem schon wieder ein neuer Baum erwachsen ist, der eines Tages seine eigene Geschichte erzählen kann.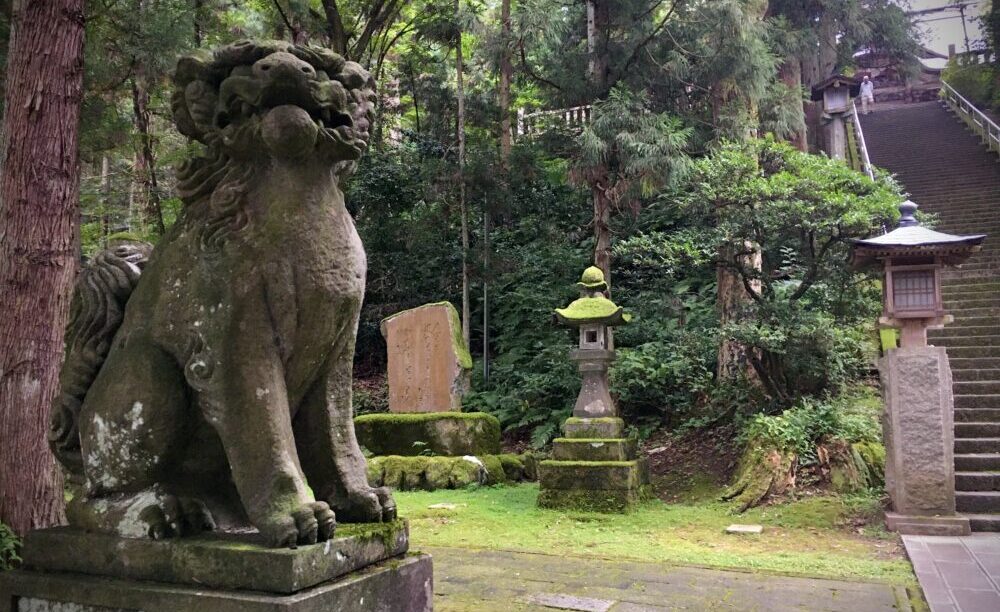 Every shrine also wants to be guarded, and for this purpose, among others, this wild boy was placed here. He seems to be doing a quite useful service!
Jeder Schrein will auch bewacht werden, und dafür wurde hier unter anderem dieser wilde Bursche abgestellt, der scheinbar einen ganz brauchbaren Dienst zu leisten scheint.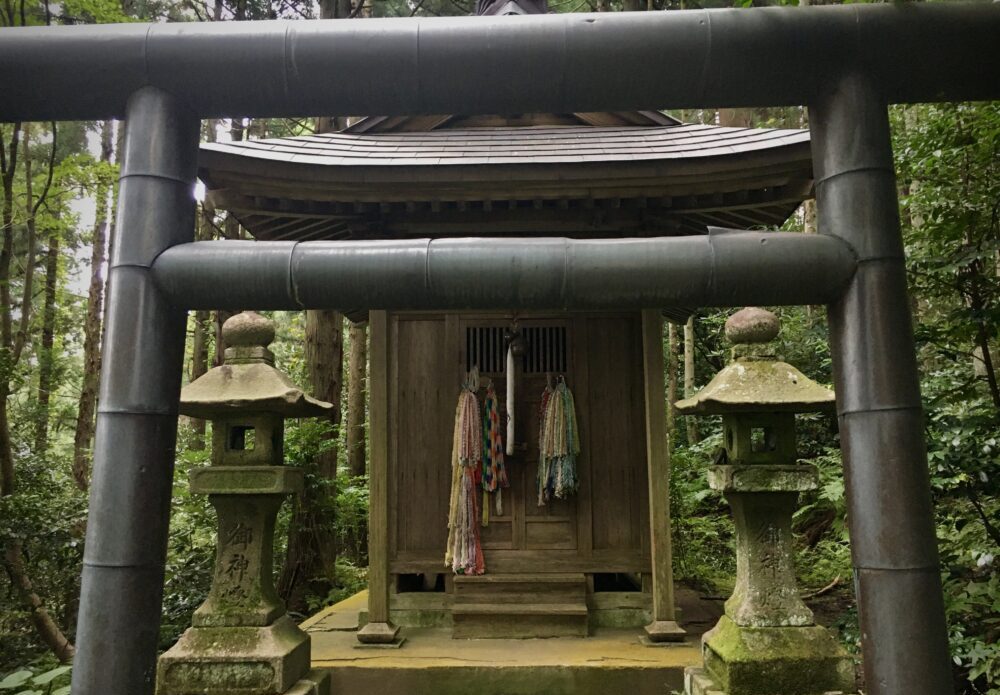 A small shrine a bit off to the side spreads its own irresistible charm, which I quickly succumbed to.
Ein kleiner Nebenschrein etwas Abseit vesprüht ganz eigenen, unwiderstehlichen Charme, der ich schnell erlegen war.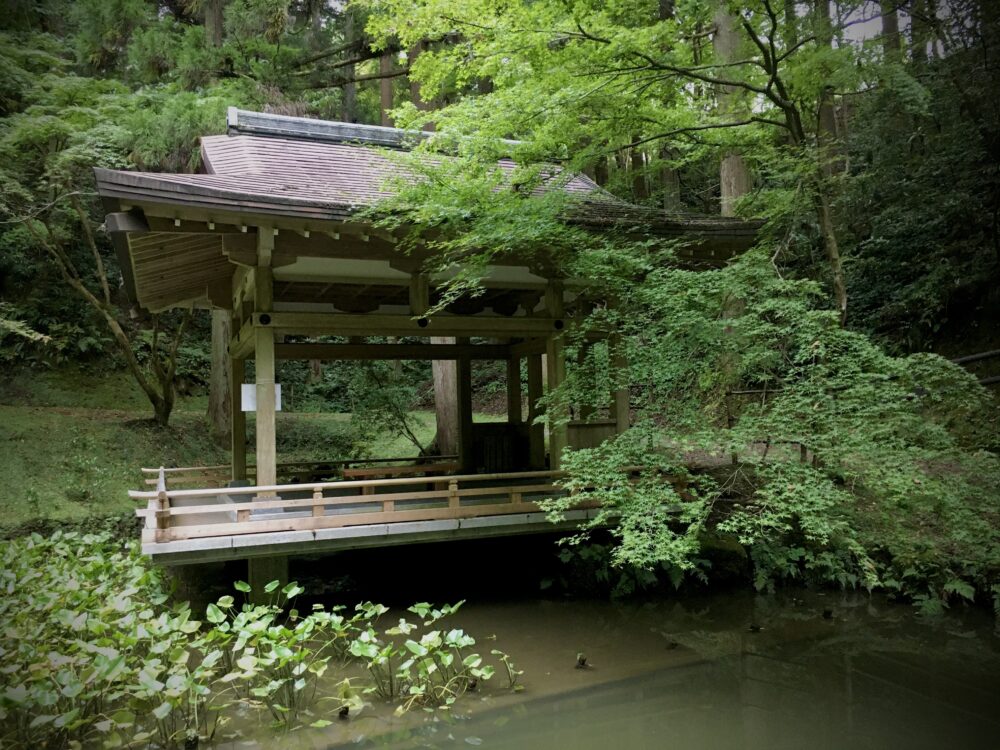 I discovered this small pavilion only at the very end my first visit. For the next trip I will have a perfect place for a little snack. It couldn't be any more inviting!
Diesen kleinen Pavillion habe ich erst ganz zum Ende entdeckt, für unsere nächste Tour haben wir dann ein perfektes Örtchen  für eine kleine Brotzeit. Viel einladender geht schon gar nicht mehr.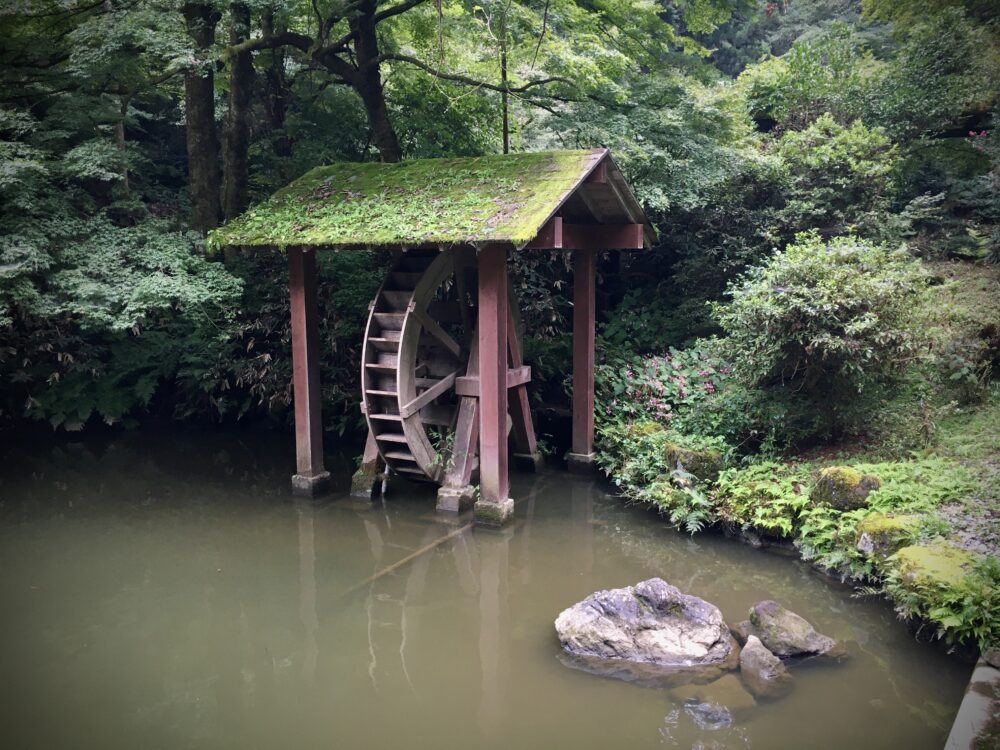 Time stands still here. One should not be in too much of a hurry, but rather perceive and cherish such moments properly. Stand still, and calmly take it all in one more time. It does no harm, quite the contrary.
Die Zeit steht still, und man selber sollte es hier auch nicht zu eilig haben, sondern solche An- und Augenblicke richtig wahrnehmen und erleben. Stehenbleiben, und ruhig ein weiteres Mal hinschauen. Es schadet nicht, ganz im Gegenteil.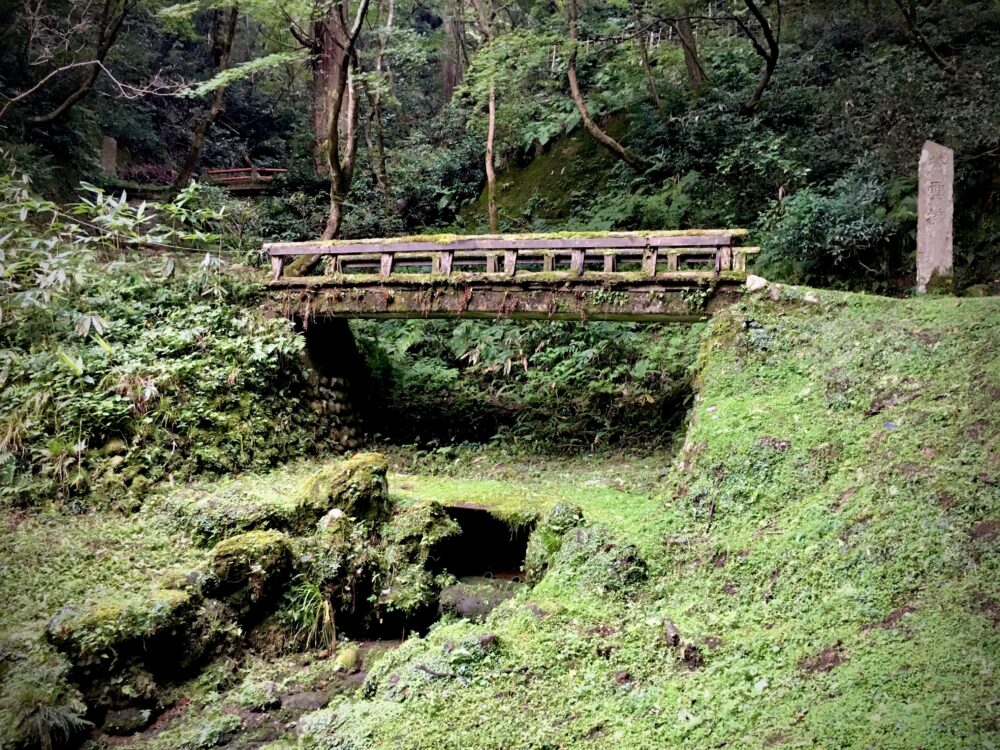 I hope I was able to take you with us on a quick tour and show you a little bit of my world.  For me, these are very special impressions, which I don't want to let go of quickly. Probably just because I cannot visit there every day, it was so wonderful and stimulating. I am already thinking about the next trip to Kamoyama Park. And I can't wait!
Ich hoffe, ich konnte euch ein wenig mitnehmen und etwas von meiner Welt näherbringen. Für mich sind das auch jetzt gerade wieder ganz besondere Eindrucke, welche ich gar nicht so schnell wieder loslassen will. Wahrscheinlich gerade, weil ich dort nicht jeden Tag vorbeischauen kann, war es so wundervoll und belebend und wir sind schon dabei, unseren nächsten Ausflug in den Kamoyama-Park zu planen. Und wir können es kaum erwarten!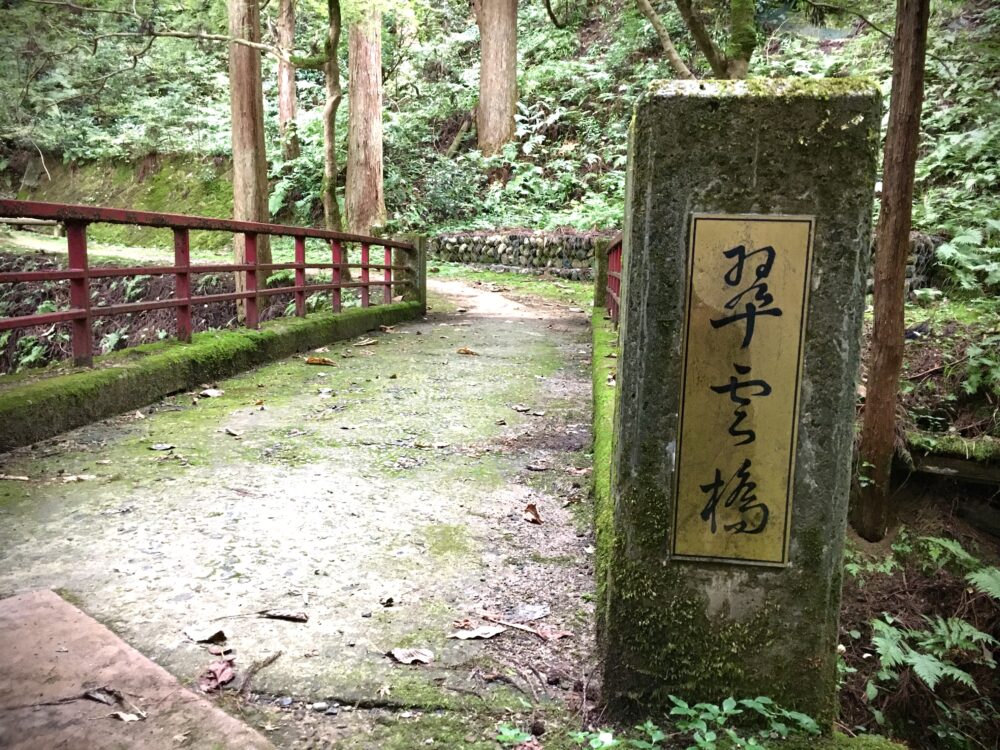 ABOUT THE AUTHOR:

Roland Maximus Ebert has been living in Niigata for quite a while. He got himself into blogging in late 2017, you can find him as @maxinpower on steemit.com or blurt.blog

He writes in both English and German.