By Joshua Furr 
---
In Latin, they're known as Vulpis Vuplis, but in Japan, they go by kitsune. Throughout history, foxes have played a significant role in Japanese culture and their paw print can be seen anywhere from shrines to delicious lunch stalls. However, in Niigata, this omnivorous mammal is especially prominent. Before we dig into that, let's shed a little light on this fascinating creature.
Kitsune, the Divine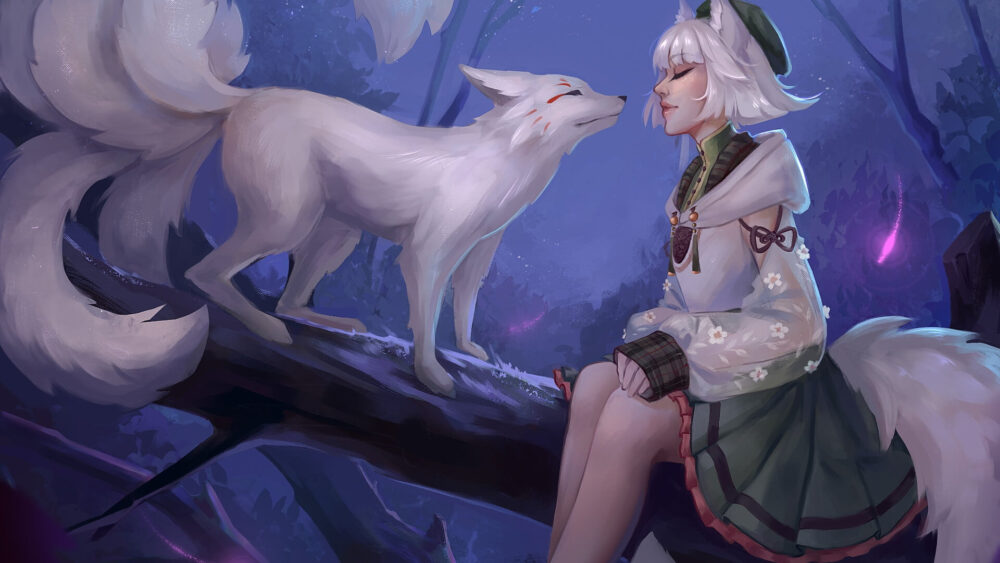 One of the most popular Shinto goddesses is Inari Ōkami, the goddess of a handful of things:  success, prosperity, agriculture, industry, craftsmanship, smiths, but most importantly, rice. As rice was almost as precious as money in old Japan, it's easy to see the importance.
In Japanese mythology, Inari Ōkami was known to have descended to Earth on a white fox to save the country from a rice famine. Foxes later acted as Inari's multi-tailed messengers. Thus, you will always find fox statues guarding the numerous Inari shrines around Japan.
Kitsune, the Delicious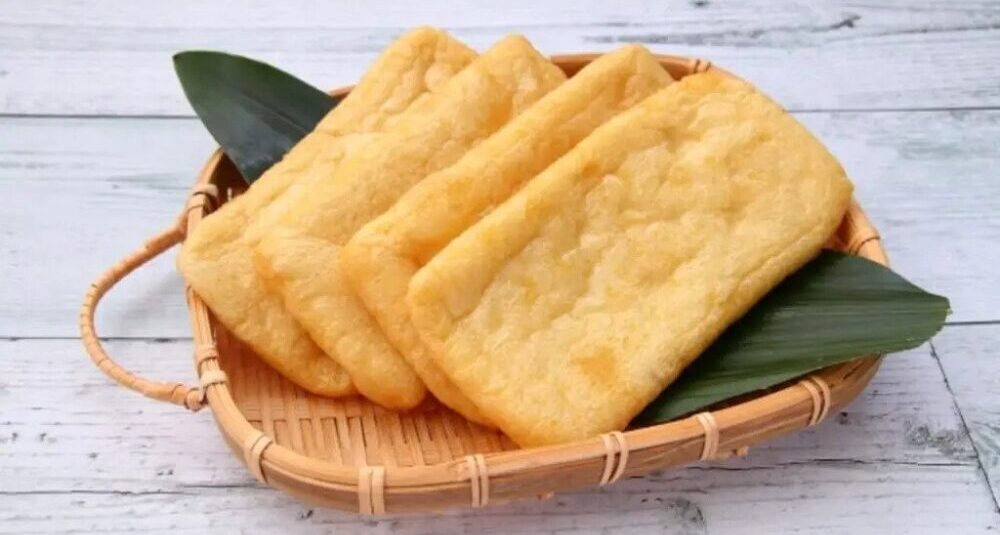 Kitsune's connection with Inari, the rice goddess, eventually manifested itself in a most practical way. As mice eat crops and foxes eat mice, foxes quickly became a favorite of farmers. To say "thank you" for the hard work of keeping their crops safe, farmers used to leave dead mice outside of rice dens. However, as Buddhism spread across Japan, killing innocent life became anathema and offerings eventually evolved into strips of deep-fried tofu.
This humane—yet appetizing—substitute of tofu is called abura-age, and is lovingly left by worshippers at Inari shrines. Moreover, when a rectangular strip of deep fried tofu is added to a piping hot bowl of slippery udon noodles, the delicious dish is transformed into kitsune udon. It's a hit with both humans and animals.
Kitsune, the Legend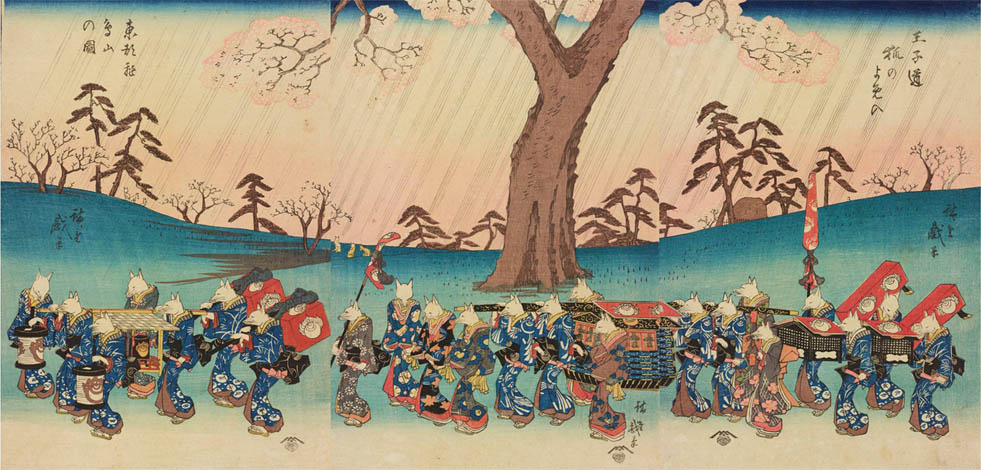 Besides their holy ancestors, the majority of foxes in Japan are considered to be yōkai, ancient beings who live among us mortals. Kitsune have a range of magical powers that can be wielded for good or for evil: mind-control, human possession and even affecting the weather.
Kitsune are the only yokai in Japanese folklore who fall in love and get married, which typically results in a Fox's Wedding, or Kitsune no Yomeiri,. The jubilant event itself is quite a common motif in Japanese folklore, with numerous paintings depicting kitsune parading towards marital bliss. While it's undoubtedly a wonderful time for the yokai, a Fox's Wedding causes ripples in our human world throughout all hours of the day.
Have you ever experienced rain on a perfectly sunny afternoon, without a cloud in the sky? This phenomenon is known as a sunshower to meteorologists, and is a sure sign in Japan that a Fox's Wedding is taking place. The rain is said to keep humans from venturing into the wild to witness the blessed event.
Another tell-tale sign that a Fox Wedding is happening is the sighting of kitsunebi, or fox fires. We know them as "wil-o-wisps"—atmospheric ghost lights that mysteriously appear in the forest at night. Kitsunebi were thought to be the lanterns of foxes marching through the trees in a wedding procession.
Similarly to finding a four-leaf clover, the Fox's Wedding is believed to be an auspicious sign.  which signifies a bountiful harvest. Conversely, a lack of fox weddings is a bad omen.
Kitsune in Niigata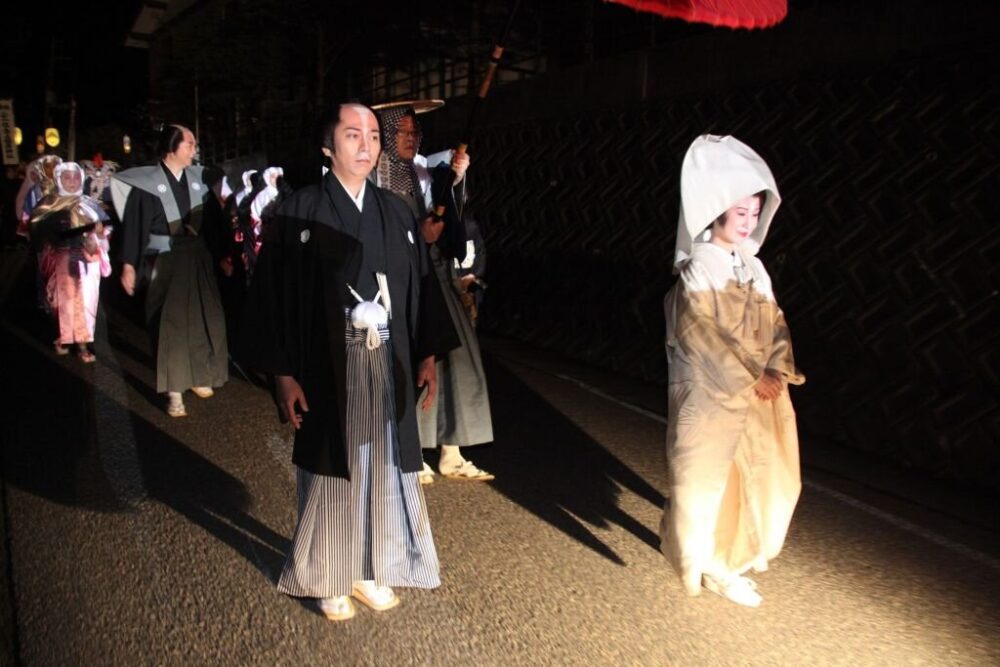 Mt. Kirin, in Aga Town, Niigata holds the record for the most foxfire sightings in the world, and is a Mecca for fox lovers. The Fox Wedding Parade Festival is a beautifully choreographed event where procession participants, tourists, and townspeople dress up as foxes and form a wedding procession, while the dark bridegroom and his snow-white bride stroll down the highway to ultimately end up at the altar.
While a fun and fascinating time for all who are involved, the entire event still holds an air of mystery. Indeed, when night falls on the festival, mystical flutes play as the fox bride and groom board a boat and sail away to Mt. Kirin in the darkness.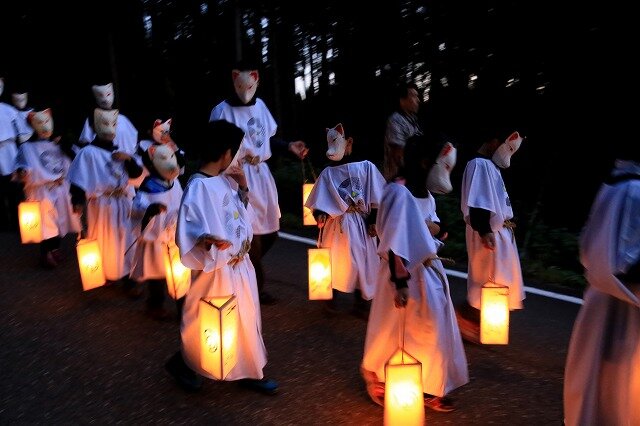 Another Niigata fox celebration is held within the mountainous area of Tochigahara, and based on the renowned folktale of  . The story is about a trouble-making shapeshifting fox that is outsmarted by a wealthy boy from Tochigahara named Fujigoro. As revenge, kitsune put a spell on Fujigoro's entire family, bringing them to ruin. A tragic tale indeed, but thankfully the festival is anything but.
The Kitsune Night Festival is a special event that allows guests to participate by not only sporting fox attire, but assisting in cooking an enormous piece of abura-age and carrying it on a 2.7km candle-lit march through mountain trails. Later on, a fire-side ritual takes place, where fox-masked dancers blur the lines between reality and legend.
Despite their reputation for deception, kitsune is still revered in Japan and continues to inspire curiosity in Niigata. The prefecture's lush forests and majestic mountains are just the ideal locales to spot this otherworldly animal.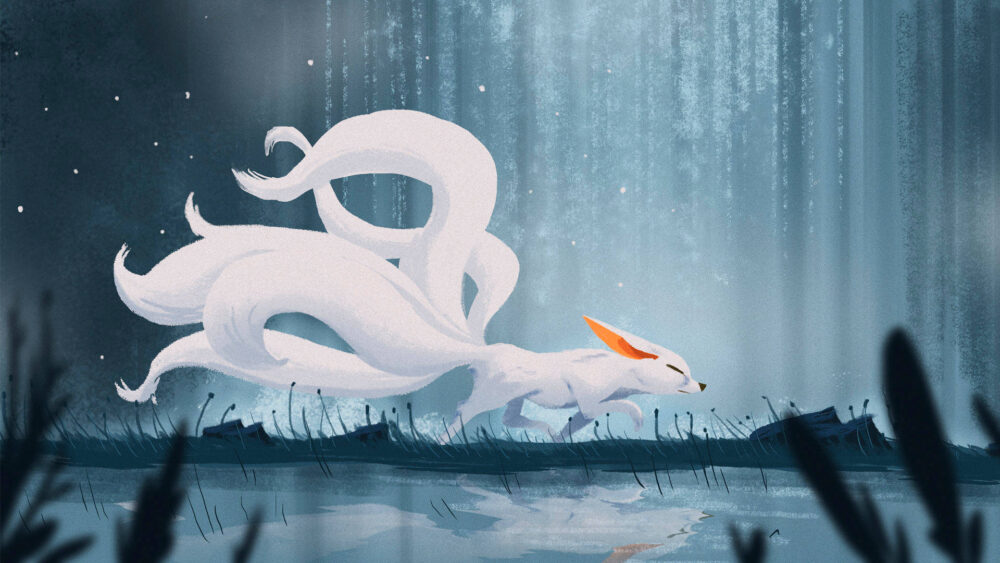 So, if you find yourself in the middle of a sudden sunshower or witness a trail of strange lights at midnight, make sure you've got a handful of deep-fried tofu. You'll be fine. Probably.
---
Even though Joshua Furr is from North Carolina (home of bluegrass, flight and Pepsi), he prefers a life outside the U.S. Currently you'll find him in Warsaw, Poland.

He has a beautiful wife and two sons, all whom he forces to listen to Japan-based conversation and 80s music. Around lunch, he dreams about eating gyudon at Sukiya. When he's not spending time with his family, he's writing, teaching or tinkering with Adobe software.