Often overshadowed by the larger, more popular Sado Island, Awashima is perhaps Niigata's most well-hidden gem. If you're looking to discover a new side of Japan, this is where to start!
With only extremely limited travel options, no ATMs, and not a convenience store in sight, Awashima is one of the most cut-off places in the country. This isolation has fostered a unique culture of people who eat, speak, and think differently from those on mainland Japan.
Let's get retro!
Stepping off the ferry throws you straight into a hodgepodge of different decades. You can spot billboards, posters, and architecture that stretch as far back as the 1950s, with the 70s and 80s being heavily featured. The streets of Awashima are truly the epitome of the word 'rustic'. With only a sparse offering of modern restaurants and hotels to remind us of the 21st century, for lovers of retro Japan, it doesn't get more authentic than this!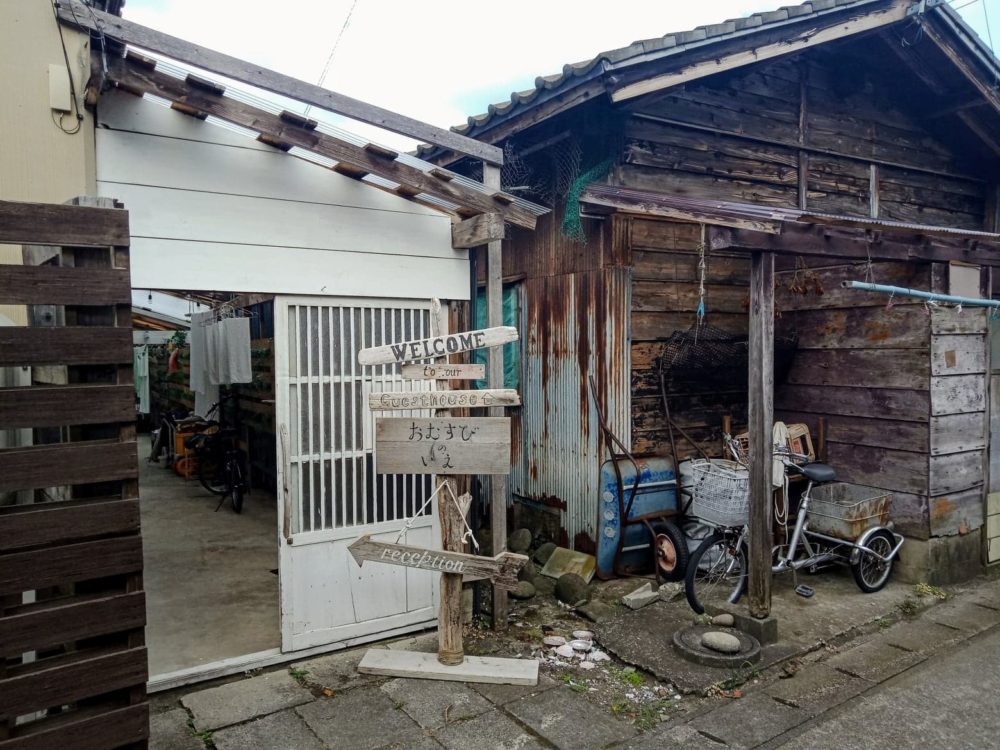 The rustic streets of Awashima. (Photo: Steve Csorgo)
What to eat
Awashima's isolation has formed a unique cuisine culture centered around locally-caught seafood. This includes the famous wappani, a soupy seafood dish that has become recently adored by mainland Niigata residents. Wappani is prepared and served in a deep cedarwood bowl. After fresh fish, onion, miso, water, and other condiments are inside the bowl, an extremely hot stone is dropped in to instantly boil the broth and release the flavors. The fish used depends on the season, with local black rockfish and filefish being the most common choices. This exquisite specialty can be found in restaurants all across the island.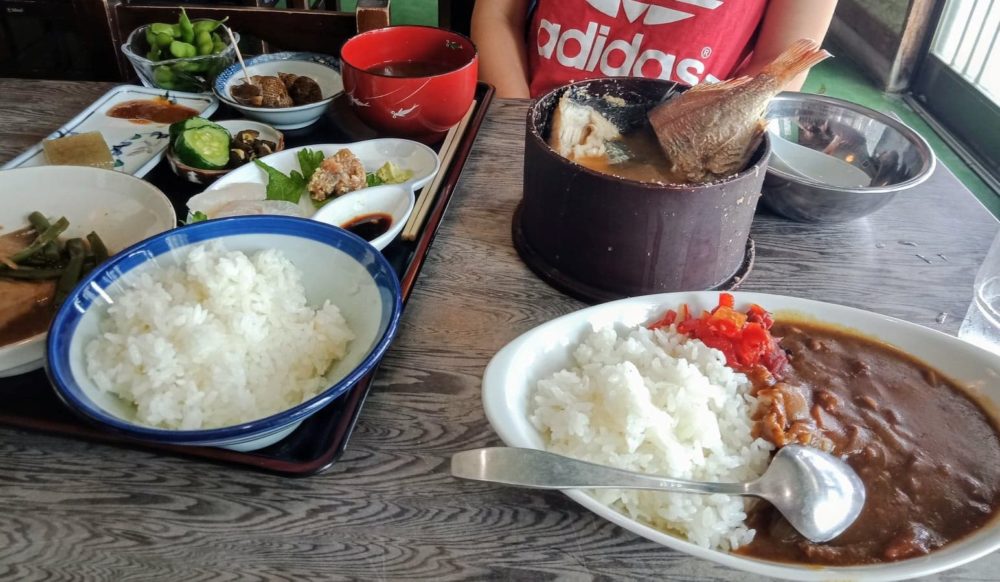 Lunch at one of Awashima's many traditional restaurants. Wappani can be seen on the right. (Photo: Steve Csorgo)
Outdoor Japan! Cycling, camping, fishing
Awashima is a place to escape the metropolitan madness and get back in touch with nature. To make things easier for travelers, there are a number of businesses offering bikes, fishing gear, and camping equipment to rent. If you rent a bike, the whole island can be cycled in just 30 mins! There is also a beautiful hot spring on the island, so you can enjoy nature without forfeiting cleanliness.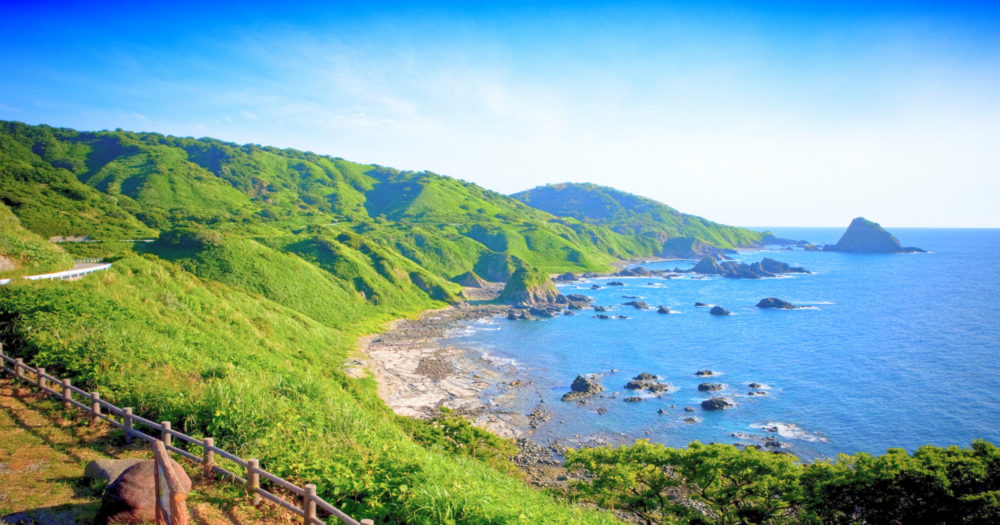 https://awashima-wh.jp/
Getting there
Awashima can be reached by two ferry lines. The first is located in the port of Murakami City, which is about an hour's train ride north of Niigata City. From this port, two different ferries run daily. The regular ferry is cheap and takes around 85 minutes, while the high-speed ferry takes just 55 minutes but is almost double the price. Services generally run twice a day, once in the morning and again in the afternoon. Definitely be sure to check the timetable before you begin your trip.
The second line is a new high-speed ferry, Kirara, that boards at Niigata City port. This ride, while a little expensive and lengthy, is very conveniently placed near the eye-catching Toki Messe skyscraper, which is only 10-minutes by taxi from Niigata Station. Services from here are even more limited, so definitely check before you go!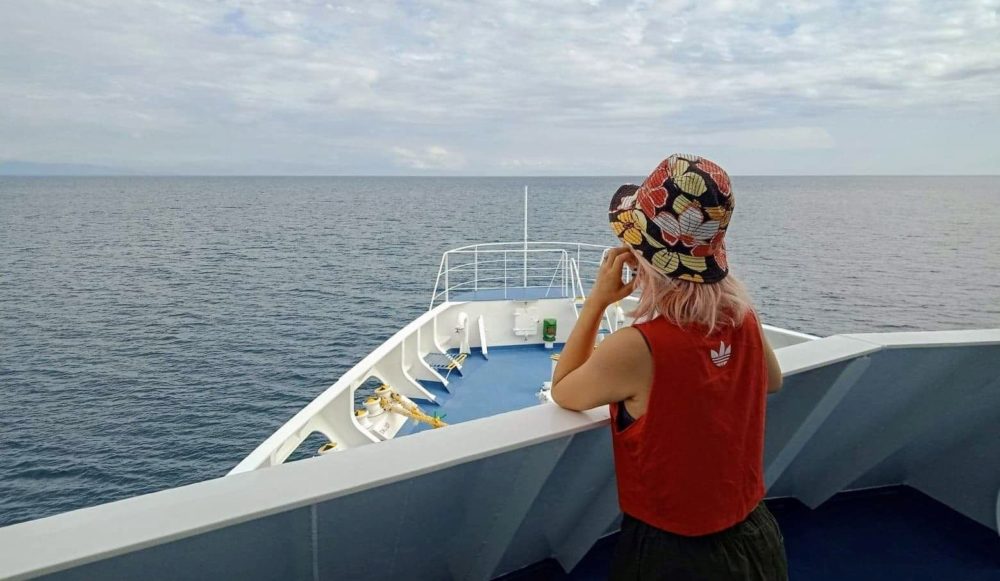 On the regular ferry heading back to Murakami Port. (Photo: Steve Csorgo)
Why come to Awashima?
Awashima is all about slowing down. Pottering about the town, reveling in the sea breeze, discovered hidden trails, and indulging in exquisite food – you'll find yourself matching the pace of the locals in no time! If you're tired of the same old getaways, Awashima offers the chance for a true adventure, as well as, an escape from the overcrowded tourist-traps popular in Japan. For more information, contact us for guidance on Awashima and all things Niigata!
The local flavor 
Awashima isn't all just old folks – there's a group of young entrepreneurs looking to reinvigorate the island and make it a staple of Niigata's growing tourist industry. One of the most prominent is Hanako Aoyagi, the enthusiastic owner of Awashima's only guesthouse, Omusubi House. Fresh, stylish, warm, and fun, Hanako has spent countless hours putting her energy into creating the guesthouse she's always wanted to stay in. Nearby, the Good Hour Park is a café and restaurant of cutting-edge ambiance. With craft beer, gourmet food, and a boutique design, it's a big part of the strategy to attract tourists to the island.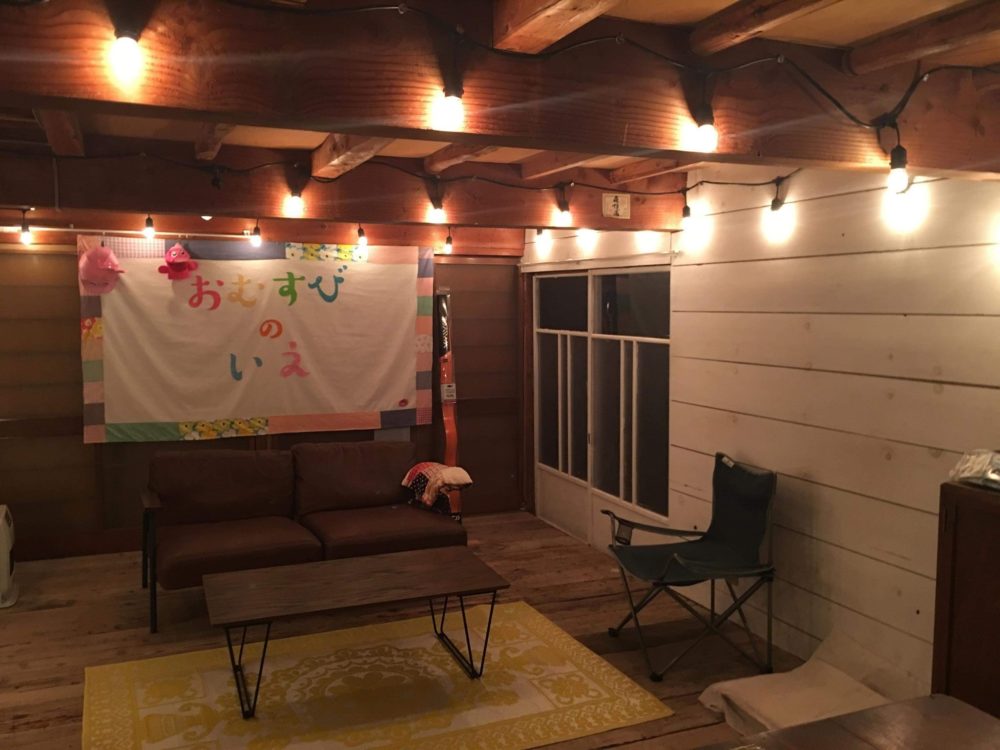 Inside the lounge area at Omusubi House. (Photo: Steve Csorgo)
---
| | |
| --- | --- |
| | Steve was born in Melbourne, Australia, and moved to Japan in 2015. Currently living in Niigata City, he is an aspiring writer and lover of sake. |