Flowers are placed in water of the hand-washing basins in shrines to bring on the festival feeling.
Every summer, since the 8th century, Japan adorns beautiful decorations and prepares to celebrate TANABATA – the Star Festival. It is a magical time when love concurs all and dreams come true.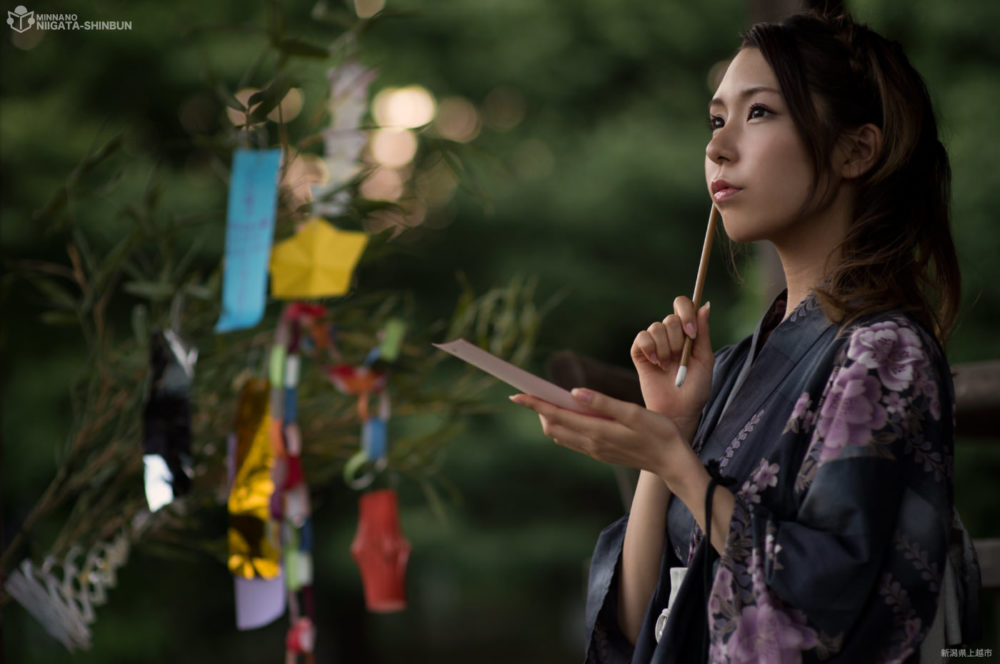 Photo by Niigata Shinbun 
Story
Once upon a time, a beautiful princess Orihime sat by the Star River (the Milky Way) and weaved. Her father Tentei (天帝the Sky King) loved her clothing, so Orihime worked very hard. Her father was happy with her work, but one day noticed that Orihime herself was sad. She told Tentei that working as hard as she did, she did not have time to meet anyone and fall in love. She was lonely.
Tentei hated to see his daughter sad. He looked far and wide, and found a cow herder, Hikoboshi, minding cows nearby. Tentei arranged for the two to meet, and sure enough it was love at first sight.
Soon the pair was married and as happy as can be. In their happiness, both had forsaken their duties. Orihime's weaving lay untouched by the river. Hikoboshi's cows wondered all over the sky.
Tentei got angry when he saw how negligent the young couple had become. As punishment, he separated them on the opposite sides of the star river.
Once again, Orihime sat at her work, but Tentei saw that this time she was even sadder than before. His daughter's suffering softened his heart. From then on, on the 7th day of the 7th month, for one night only, Orihime could meet her husband Hikoboshi (provided their work didn't suffer).
When the long-awaited date came, the two lovers raced to the star river, only to realize that it still separated them. Desperate to be once again in her husband's arms, Orihime fell on the riverbank in tears.A flock of magpies flying by saw the young woman's distress. They extended their wings over the river and allowed the intrepid couple to cross. Before flying away, the magpies promised to come back every year and lend their help again.
From that time forth, Orihime and Hikoboshi could meet once a year. However, legend continues, if it rains the night of the 7th, the waters of the river rise, and magpies cannot build their feathery bridge.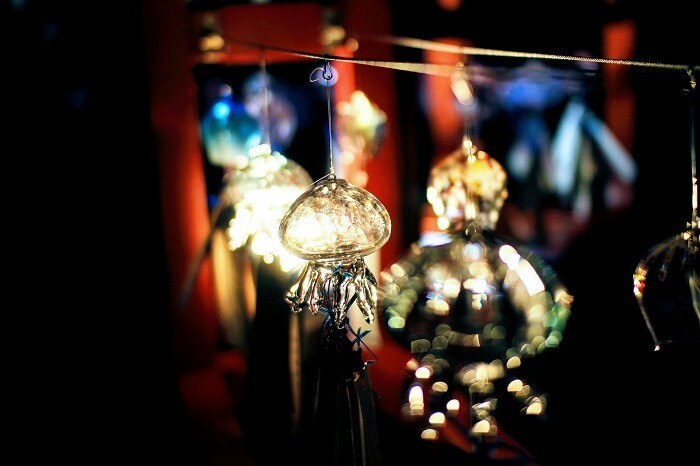 Photo by Bokumusu.Tokyo
Traditions
Tanabata traditions are closely related to the regional purification rituals of Obon. As the legend goes, Tanabata was to be celebrated on the 7th day of the 7th month, which placed the festival very close to Obon.
However, in 1873, Japan had adopted the Gregorian calendar (the calendar that we are all familiar with today). This separated the two celebrations, leaving Obon in the middle of August and moving Tanabata on July 7th. However, the dates of the celebration, as well as traditions, still vary by region.
In Niigata, Tanabata is usually celebrated on July 7th. Glass wind chimes (風鈴) are a big part of that celebration. It is believed that the sound of the wind moving through wind chimes signals the presence of gods. Listening to the wind brings peace, relieves guild and injuries, and enriches the eyes and hearts.
Photo by @ag___8462
Photo by @ag___8462
Photo by @ niigata_tw
Personally, the sound of these bells has always been calming and relaxing. There is nothing more wonderful than falling asleep on a warm summer evening to the sound of wind whispering in the glass cups.
Places to go
Hakusan Shrine
Amazing wind chime display that will leave no one unmoved. Special lights are installed to create night time illumination. The park and shrine grounds are also filled with fresh Ajisai . And of course there are many open-air food stalls one can enjoy various festival foods at.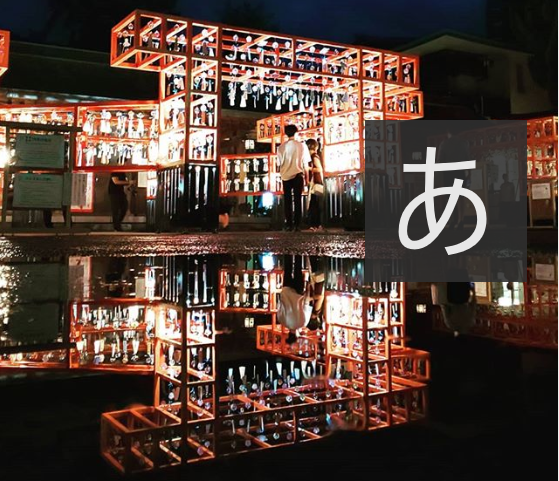 Furumachi shopping street
The shopping street fills with colorful festival decorations. Of course there are open-air market stalls with typical festival foods.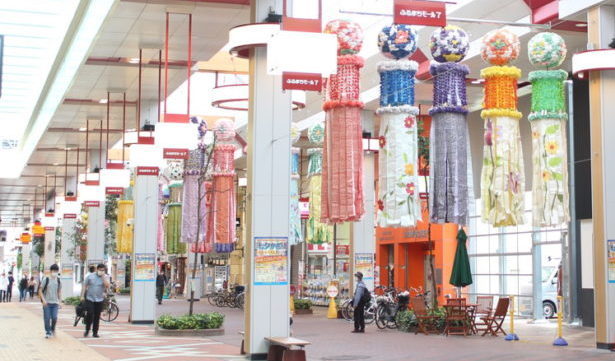 Gosen Castle Ruins
The castle ruins and shrine compound fill with 2500 glass wind chimes. At night before and shortly after Tanabata Festival there are colorful light ups that bring the whole world alive.
---
Jenya Yuss came to Japan in 2015 and has not left since. She has lived in Nagoya, Ishikawa and finally settled in Niigata. She loves to be in nature and enjoys all types of outdoor activities.

She likes to write about history and culture, but really would tackle any topic!