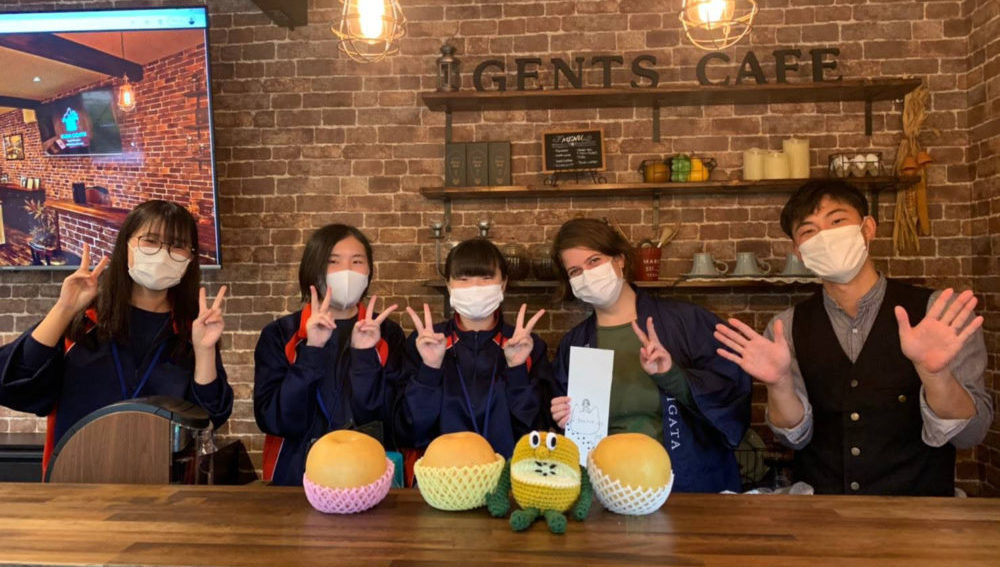 Today we had the unique chance to participate in a very special event created by Minami-ku Ward Office and Shirone High School students. As part of the event, we were introduced to about 15 farmers living and working in the Shirone area. The farmers welcomed us into their homes and fields, allowed us to experience firsthand the hard work they do every day, and answered all our varied questions.
Shirone is located in the South Ward of Niigata city. The region is very flat and mostly consists of farmlands (with mountains obscuring the horizon in nearly every direction!). In fact, Shirone is the least populated region (person/square kilometer) in Niigata City. One sign of this, is the fact that there is only one high school in the whole area, and even that only has about 240 students! Despite the fact that Shirone's flat fields would be perfect for growing rice, historically fruit farms and vegetable farms have prospered here. Nashi – Japanese pears – in particular are very famous.
This is why it was so exciting to meet Farm Gents's owner Retsuya Yamada. Farm Gents is a modestly producing nashi farm. About 10 fields are part of the farm, with various types of nashi that are grown there. The products from this farm are sold online and at several farmers markets across Niigata city.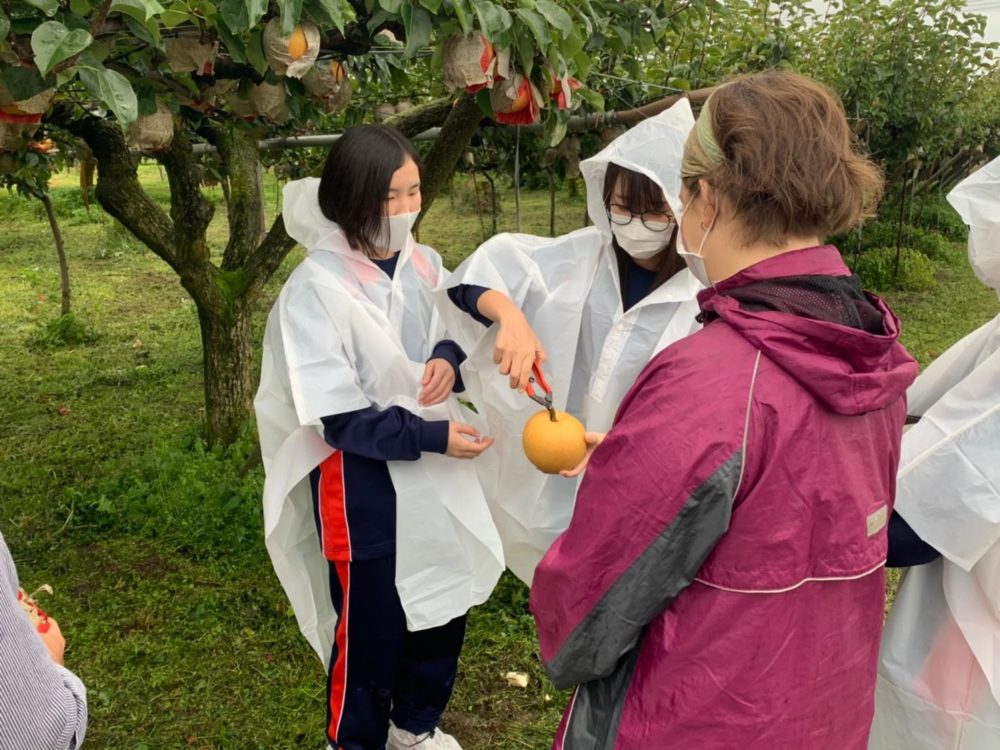 Under the kind supervision of our guides – three Shirone High School students – we learned all about nashi and the difficult task of growing them. Here are some facts that really stood out.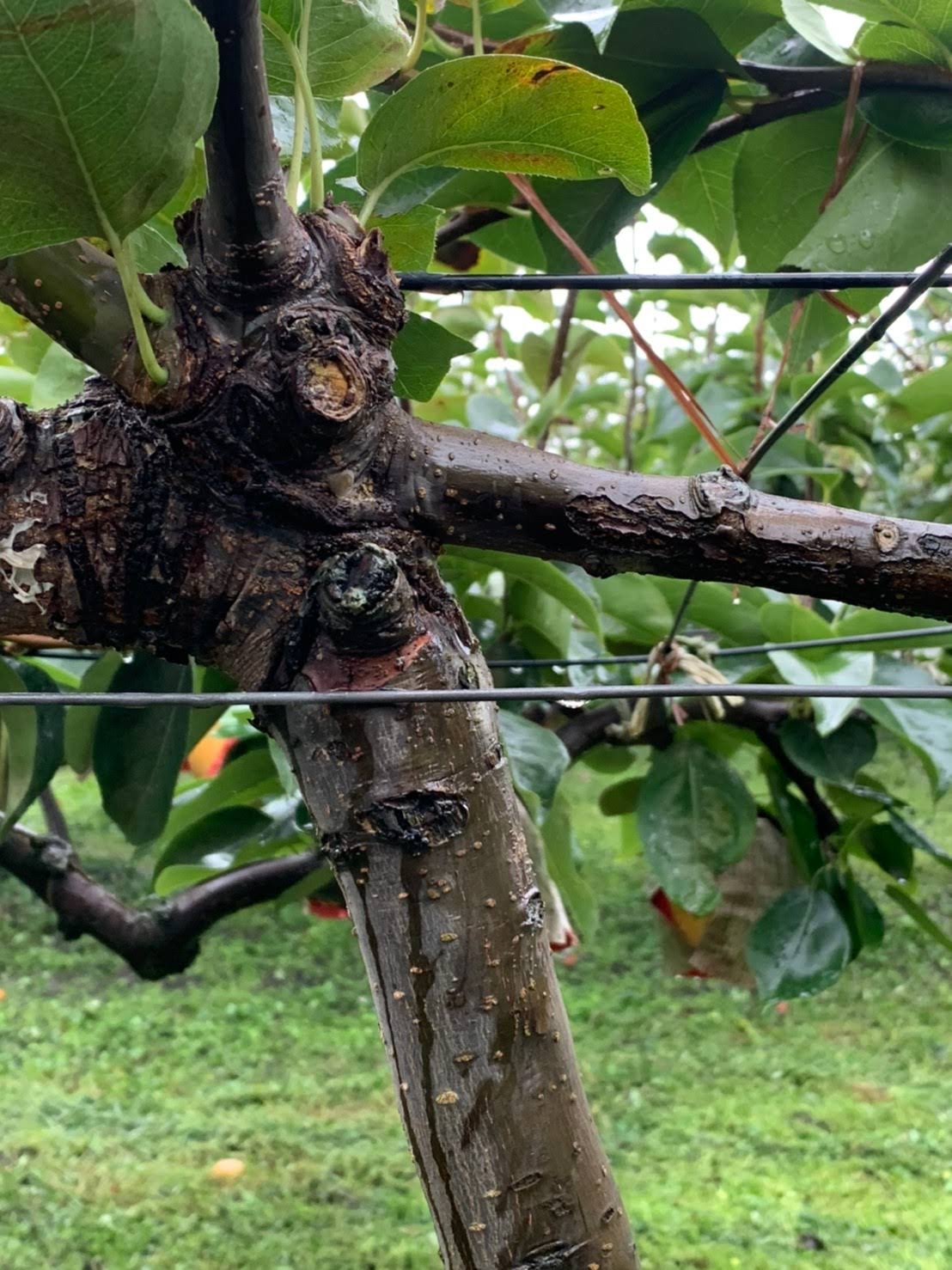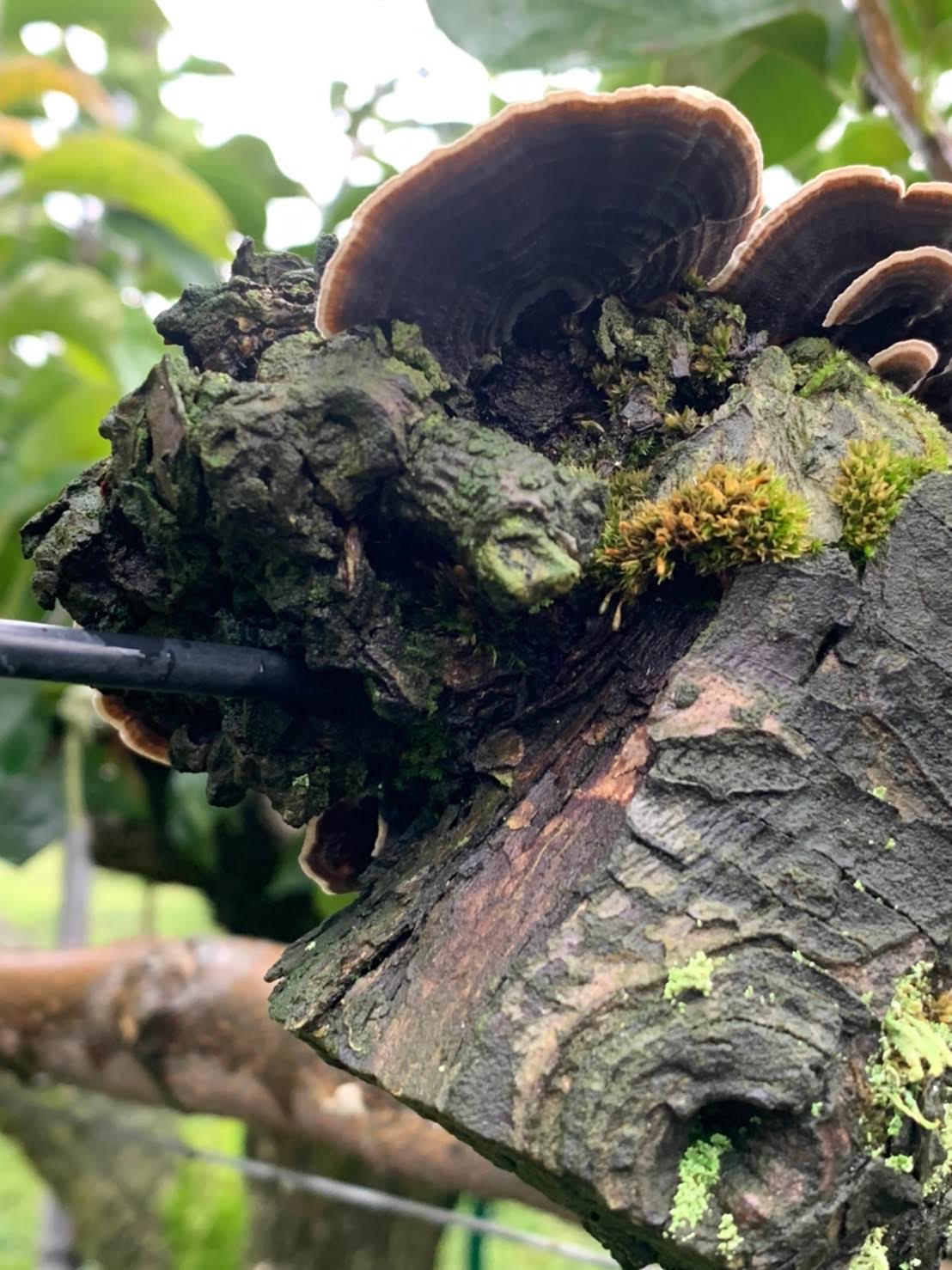 Nashi trees are all connected! To make is easier to pick the fruit and to protect the fruit from strong Japanese winds, the trees are carefully trimmed and tightly tied to a wide mesh that runs through out the field. In fact, older trees have been known to grow around the wires, so that even when dead, they cannot be fully removed. But that's not all! The trees are carefully attached to each other to make one long tree that is connected to the ground by several tree trunks. That way all the trees share nutrients with each other, and it is easier to control their health and quality of the fruits. This technique was not popular until 10-20 years ago, so the older trees on the farms tend to stand alone.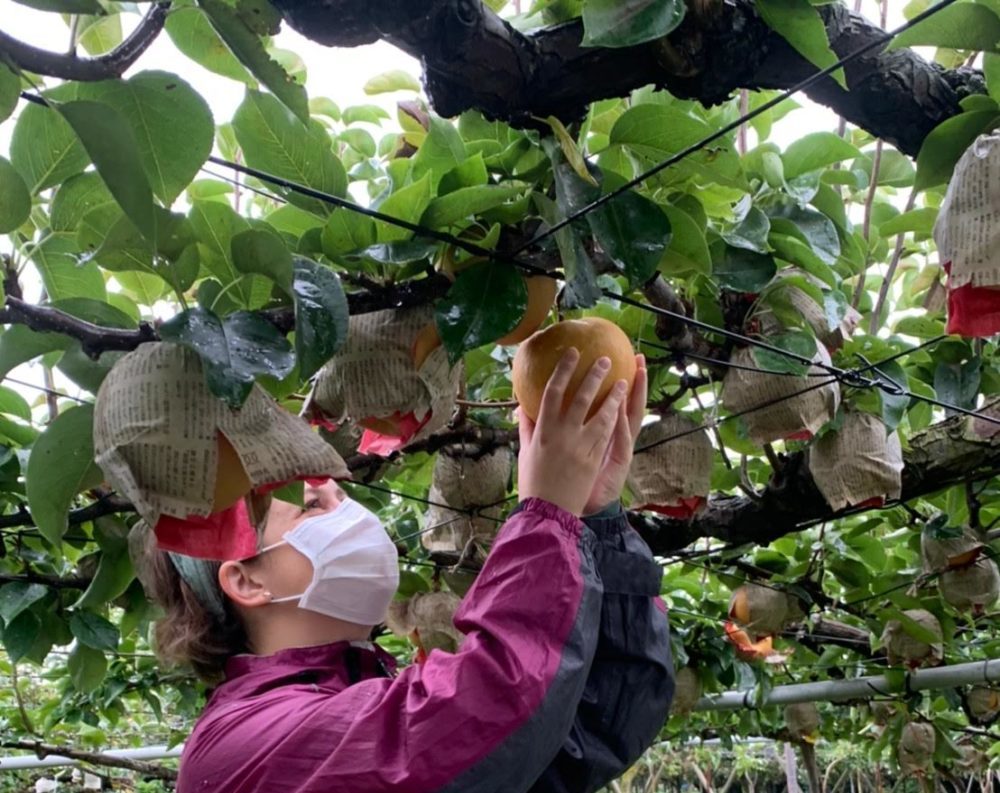 To properly pick nashi you have to raise them! Maybe I am the only ignorant one, but I always thought that picking fruit meant pulling them down. With nashi it is the opposite. Picking the fruit up, allows for the stem to break cleanly on the side of the tree and not damage the fruit. In fact, many steps are taken to keep the fruit from damage, for example wrapping them in wax paper and newspaper, to keep them from bruising when the wind swings them against branches.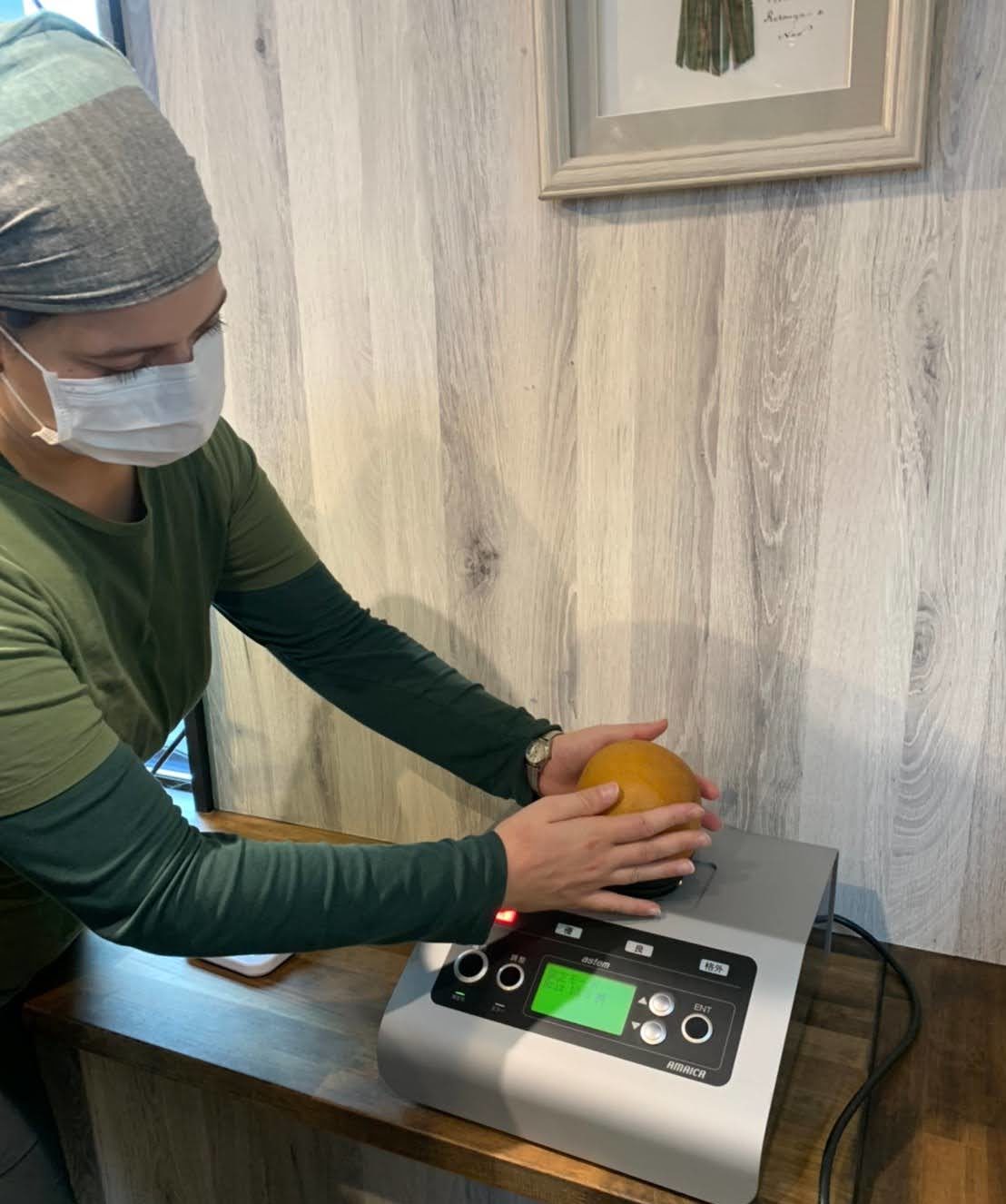 After the fruit are picked they are weighted and their water-content is measured. With nashi, anything above 12 points is considered good quality (sweetest and juiciest fruits).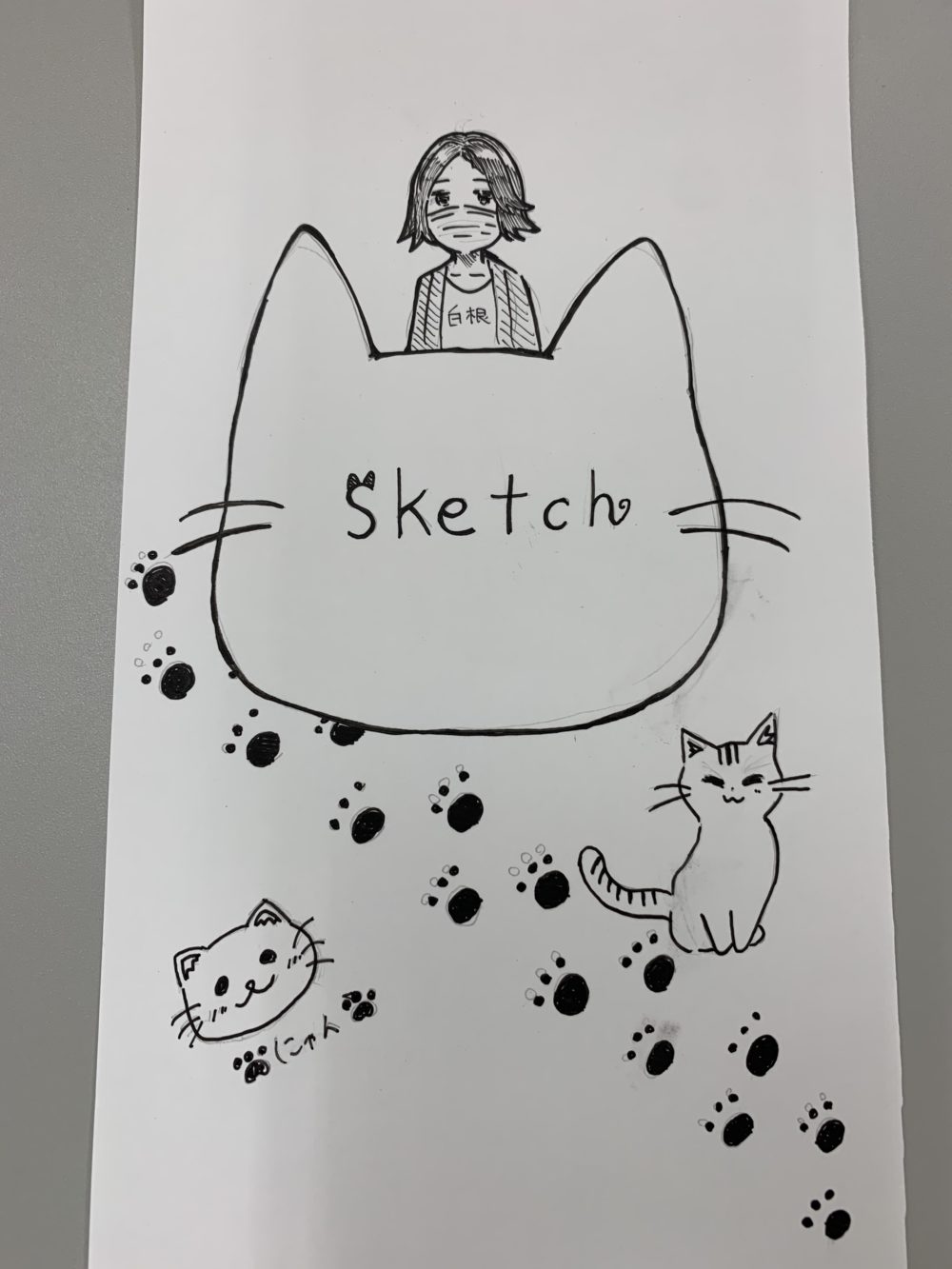 As a parting gift, our wonderful guides gave us a hand-crafted paper obi to wrap around our box of delicious nashi.
---
Jenya Yuss came to Japan in 2015 and has not left since. She has lived in Nagoya, Ishikawa and finally settled in Niigata. She loves to be in nature and enjoys all types of outdoor activities.

She likes to write about history and culture, but really would tackle any topic!