Valentine's Day is a little different in Japan than in the West: girls are expected to hand over bundles of chocolate—and other gifts—to the males in their lives, so much so that many chocolate companies make half of their annual sales in a matter of days. There's the obligatory chocolate: giri-choco, and then there's the chocolate intended for the dude who really matters: honmei-choco. But are the guys really into it? In the U.S., forty percent of women in the U.S. report chocolate cravings, while just 15 percent of men get the itch. So ladies, instead of bowing to the almighty cocoa bean this year, why not get into something a little off the beaten path? Something that's sure to leave a lingering aftertaste. Try ame: Japan's original hard candy.
RICH HISTORY
All good things get around eventually. This golden delight popped up at the 1893 Columbus World Expo, where it was on display at the Japanese pavilion; a reconstruction of the Ho-o-den—or, Phoenix Hall—, an 11th century Buddhist temple near Kyoto (incidentally, the phoenix was chosen especially to underline how Chicago had risen from the ashes of the devastating fire in 1871). It made ink again at the Paris Exposition in 1900, and again at the 1904 St. Louis Expo.
Two years later, Natsume Sōseki's iconic 1906 novel Botchan featured two prominent references to a certain candyland that was—in those days— as inconspicuously off-the-map as you could get:
"I want to eat Echigo's bamboo candy".
"Kiyo is munching on the bamboo grass candy of Echigo."
As one of Japan's most revered authors, Sōseki's little asides got the conversation going amongst modern Japan. The "candy" in question wasn't your standard candy fare— or okashi—, but sasa-ame: rice and starch syrup kneaded and sandwiched between strips of bamboo, resulting in a translucent gourd-shaped confection. And this candyland? A former province before the Meiji Restoration that included all of present day Niigata Prefecture; one of the 30 "far countries" in terms of distance from the capital and one of the most notorious for snowfall, hence "the Snow Country" (See also: Uesugi Kenshin and Japanese skiing). Each piece of syrupy-sticky goodness was lovingly crafted and sold at Takahashi Sonzaemon Shoten, established in 1624 in Joetsu, Niigata—formally Echigo—making it the oldest candy store in Japan still producing and selling ame. The original recipe being simply local koshihikari rice starch syrup hardened into a sweet, elliptical and amber lozenge.
CHOICES, CHOICES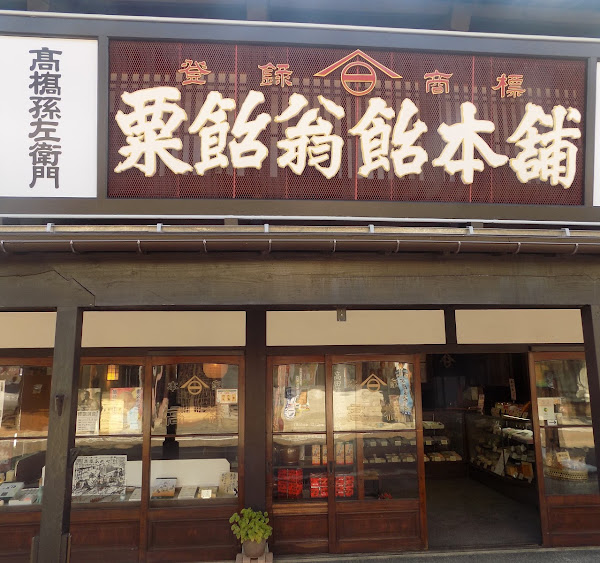 So, Step 1: Get to Joetsu, Niigata.
Step 2: Follow the long length of wooden gables from Takada Station down to the large candy shop, Takahashi Sonzaemon Shoten, a registered cultural property. You can't miss the charm of the old-fashioned townhouse situated right off the road.
Step 3: Make your Selection. Easier said than done, right? Maybe I can help. You've got a variety of iterations, experiments ad upgrades, but really can't go wrong with the three good old standbys:
Okina ame (翁飴): Using agar, the rice starch is solidified and hardened into gelatinous square cubes. A popular favorite and souvenir for travelers in exchange for admittance to go to Edo on the early road to Edo, the Hokkoku Highway.
Sasa ame (笹飴):  Kumazasa bamboo leaves gently protect the glass-like awa ame tucked inside. Due to its consistency, it's recommended never to chew it, but to let it dissolve on your tongue. It's literally been known to rip silver and gold fillings right out of your mouth. In honor of Bochan, you'll find an illustrated Natsume Soseki adorning your wrapper.
Awa ame (粟飴): The original mouth-watering sweet. During the Edo era, awa ame was exposed to the emperor's courts by Matsudaira Mitsunaga, Tokugawa Ieyasu's great-grandson and lord of the Takada clan. Legend has it that even the Emperor Showa's final bed-side requests were for a last taste of the addicting "starch syrup".
NEW GENERATION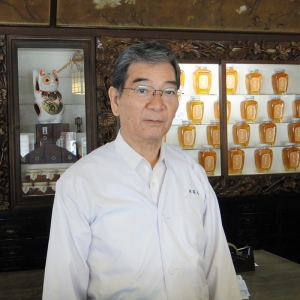 Simultaneously behind the counter and amidst the hustle and bustle, stands the genial 14th generation shop-owner, Mr. Takahashi Sonzaemon. He took up the family mantel at the age of 25, after studying at the Tokyo Confection School and training at a Japanese okashi shop. Since that time, he's performed a juggling act of preserving the traditions that were laid down before him and providing specialty products that entice visitors to Joetsu with their seasonal flare. The shop has survived a revolving political landscape, war, emigration, suburban sprawl, the constant barrage of snow and is still going strong, which is a testament to the enduring quality of this gentle innocuous treat.
With four hundred years of tradition, perseverance and dedication, doesn't a Kit-Kat fall a little short of the mark this Valentine's Day?
Check out Joetsu Tourist Site here for more information
---
Even though Joshua Furr is from North Carolina (home of bluegrass, flight and Pepsi), he prefers a life outside the U.S. Currently you'll find him in Warsaw, Poland.

He has a beautiful wife and two sons, all whom he forces to listen to Japan-based conversation and 80s music. Around lunch, he dreams about eating gyudon at Sukiya. When he's not spending time with his family, he's writing, teaching or tinkering with Adobe software.