Something that is always on the top of any tourist's list of things to do in Japan is to enjoy iconic Japanese foods such as sushi, ramen, and anything ending in "-yaki." But one of the most luxurious foods on any traveler's list is most certainly the mouthwatering and often mysterious beef known as "wagyu."
However, wagyu doesn't have to be as mysterious and budget-busting as many people think it is. In Niigata, wagyu can be more accessible than you may have ever imagined.
What is Wagyu?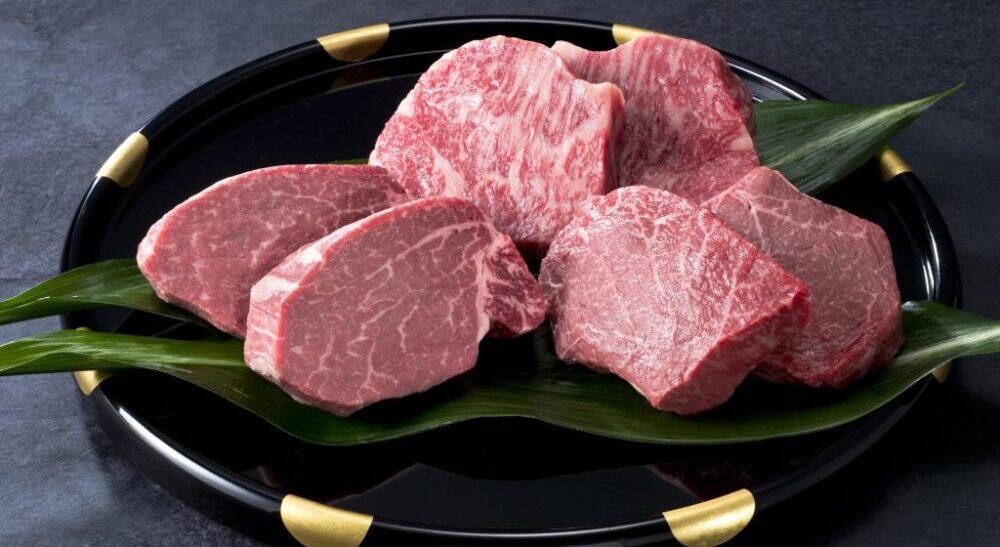 Wagyu means Japanese beef. In Japanese, the word wagyu (和牛) is comprised of two kanji characters– "wa" (和) meaning "Japanese," and "gyu" (牛) meaning "cow" or "beef."
But even though wagyu technically means Japanese beef, the term isn't used to describe all beef produced in Japan. One look at the price tags in any local grocery store will tell you that certain Japanese steaks are undoubtedly more luxurious than the rest. So what separates wagyu from other domestic cattle (国産牛 kokusan-gyu)?
Wagyu beef comes from four specific breeds of cattle that have a special genetic trait that causes them to store fat in their muscles. So instead of unused calories going to their hips or stomach like you and me, these breeds layer their fat in the very areas which later become award-winning steaks. This results in a beautiful marbled texture that provides an even distribution of fatty-umami flavors in every bite.
And if you're on the lookout for wagyu, then you've likely heard of Kobe beef, Hida beef, and Yonezawa beef as well. These are specific classifications or brands of wagyu that are determined by where the cattle are raised and the grade of the meat. But what separates an A4 Kobe steak from a B3 Hida steak?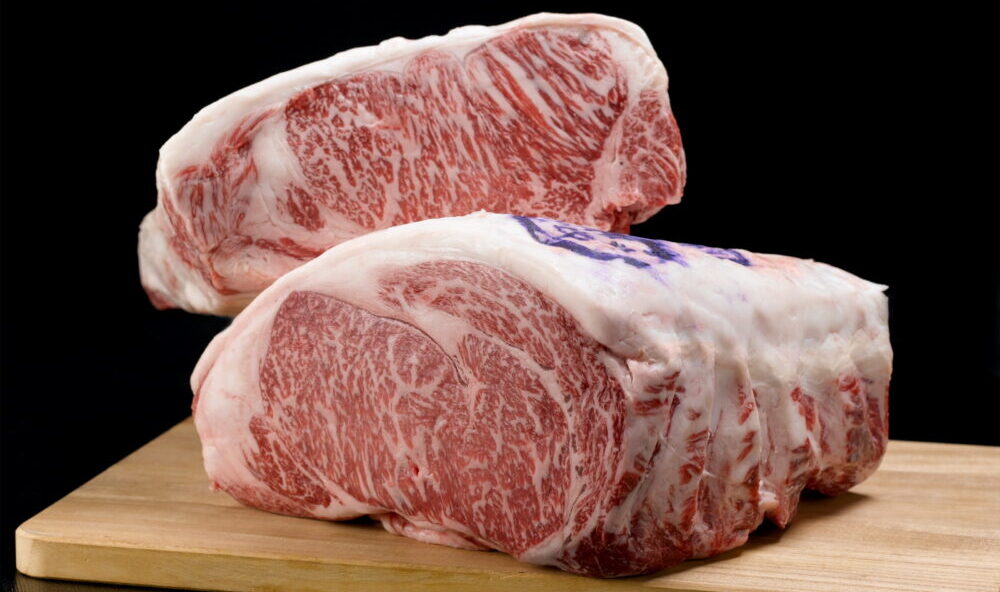 To understand the differences between the labels, and thereby the price tags, you first need to know a little bit about how wagyu is graded. 
Wagyu is graded on a two-factor scale. The first factor relates to the meat yield, or the actual amount of meat a butcher can get off of a cow. The grades range from A to C, with a rating of "A" given to cows that produce the most meat— thereby making C's their scrawnier counterparts. This factor is more important to meat suppliers than it is to consumers.
What restaurant-goers should be on the lookout for is the number that goes along with that A, B, or C rating. The number, which ranges from one to five, relates to meat quality. A rating of five means that a cut of meat is the best of the best in terms of color, brightness, texture, and, of course, marbling.
To be considered Kobe beef, a cow must have been born and raised in Hyogo prefecture (where the city of Kobe is located) and it must have a rating of A5, A4, B5, or B4. (1) This is a higher standard than other popular types of wagyu such as Hida beef or Yonezawa beef which allow for grades of A3 and B3 as well. (2, 3) But did you know that Niigata has its own brand of premium wagyu? 
Niigata's Premium Wagyu

Murakami beef (村上牛 Murakami-gyu) comes from cattle, which have been raised on high-quality Koshihikari rice stalks, in and around Niigata's northernmost region, Murakami. To be considered Murakami beef, the meat must be graded as A5, A4, B5, or B4. (4) This means that Murakami beef is of the same quality as Kobe beef. 
And while the quality of Murakami beef is equal to that of Kobe beef, the price tag can sometimes be quite different. Several restaurants in town offer Murakami beef rice bowls for about 1500 yen, and full set meals centered around Murakami beef sirloin for 5500 yen. With dishes ranging from wagyu-croquettes, to wagyu ramen, almost every restaurant in town has some sort of Murakami beef item on its menu. This makes Murakami the ideal place to visit on any gourmet's trip to Japan.
If you are looking to taste some of the highest quality, melt-in-your-mouth wagyu Niigata has to offer, then be sure to check out one (or all) of these five great restaurants on your next trip to Murakami. 
Five Amazing Restaurants to Enjoy Murakami Beef
Edosho

is a restaurant specializing in Murakami beef in the heart of Murakami's

machiya

(old town) district. Seated beneath exposed wooden beams in chairs or on tatami, diners can select from a wide range of options including Murakami beef steaks,

s

habu-shabu

,

sukiyaki

, and a 1950 yen rice bowl.

Edosho (村上牛専門料理店 江戸庄)

〒958-0842 新潟県村上市大町2−17


Chidori (割烹 千渡里)

〒958-0845 新潟県村上市細工町2−14

Chidori

is a warm restaurant featuring casual counters and small rooms that is popular with locals and tourists alike. The menu features all things Murakami including Murakami beef and salmon. The Murakami beef steak set features a 150g premium steak cooked to your preferred doneness and three other dishes for only 5500 yen. Chidori also has a Muramkai beef rice bowl on the menu for a budget-friendly price of only 1300 yen. English and braille menus are available to those who need them. And as the owner likes to practice his English with foreign tourists, there's a chance you may learn about other hidden gems in the area!

Yamashin

is the place to stop for those who like their dinner on the go, or would like to try cooking Murakami beef from the comfort of their home. This butcher shop/restaurant sells cuts of premium Murakami beef, but they also sell Murakami beef skewers and croquettes from their street stand. The croquettes  — served piping hot for only 220 yen— make for the perfect treat to enjoy as you make your way back to Murakami station.

Yamashin (村上牛専門店 美食や やま信)

〒958-0857 新潟県村上市飯野3丁目2−1

Yoshigen (割烹 吉源)

〒958-0849 新潟県村上市寺町4−18

Stepping into

Yoshigen

is like stepping back in time. This restaurant has a history going back to the Edo era. Diners are seated within 8 private rooms overlooking the tranquil garden and are served a multi-course meal centered around their food of choice (Murakami beef, salmon, or seasonal foods). For 6000 yen for lunch and 8500 yen for dinner, the chef will prepare premium Murakami beef to be grilled at your table. Please note that reservations are required at this restaurant.

Looking for the best of the best? Well, the chefs at

Ryotei Noto Shin

serve only A5 Murakami beef in their

kaiseki

meals. The special course also includes snow crab, soft-shell turtle, and

fugu

(blowfish) dishes. The restaurant also offers Murakami beef nigiri sushi sold separately or as part of a set. Reservations are highly encouraged.

Ryotei Noto Shin (料亭 能登新)

〒958-0857 新潟県村上市飯野2丁目1−9
For additional places to enjoy Murakami's premium wagyu, or for help with travel plans and reservations, please contact Edge of Niigata.
References
---
| | |
| --- | --- |
| | Kimberly arrived in Japan just one short year ago, but has loved every minute of it. She enjoys hiking and exploring everything Japan and Niigata have to offer. When not planning her next trip or trying to recreate that one thing she ate at that one restaurant, she enjoys annoying her friends and neighbors with her endless questions. She hopes that her articles answer some questions you might have had yourself, or inspire you to get out and explore Niigata. |