Noodles are so incredibly versatile that it boggles the mind. Just a scattering of a few random ingredients and you have a range of meals at your fingertips: spaghetti, spaghetti bolognese, carbonara, puttanesca, fettuccine Alfredo and —a personal unhealthy favorite—Kraft macaroni and cheese. In Japan, more specifically Niigata, B-class gourmet revolves around noodles, as well. You can find an interesting variation of "Italian", which, apart for the noodles, resembles nothing close to anything from Italy. And then you have the four types of novelty yakisoba that, shall we say, are dishes of a different color. But, don't be shy! Step right up! Variety is the spice of life, after all. In the words of Abraham Lincoln, "A noodle-house divided against itself cannot stand." Well said. Now, enjoy!
Black Yakisoba (ブラック焼きそば)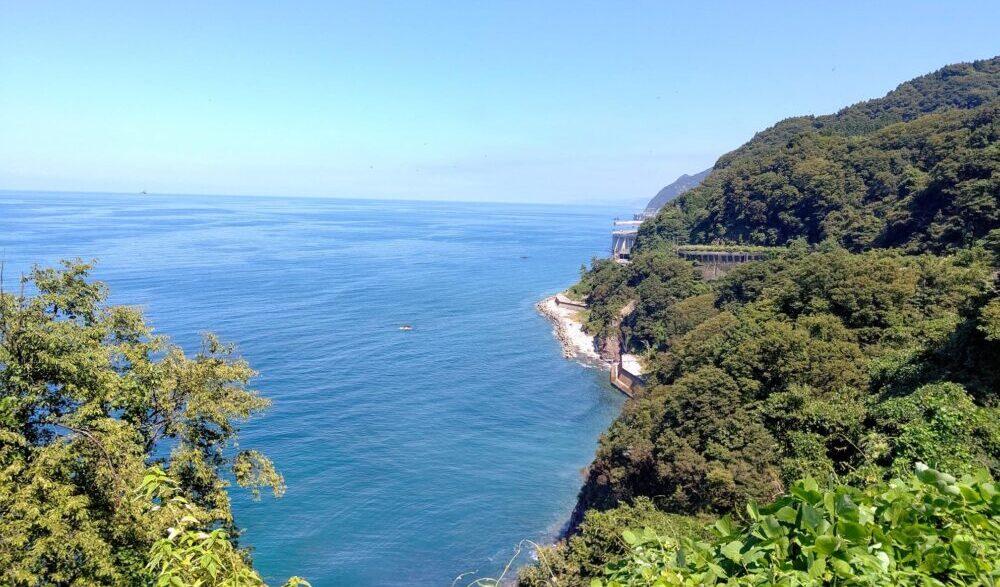 Directly situated on the coast of the Sea of Japan lies a relatively small city, but well-known for the abundance of jade and dangerously sparse cliffs that fall into the sea, best depicted by ukiyo-e artist, Hiroshige. Itoigawa's relationship with the sea is closely-knit as it boasts one of the largest fisheries in Japan. However, without adequate representation, the difficulty of marketing its local food has always been an obstacle, until recently.
In 2009, the Itoigawa Umaimonkai (糸魚川うまいもん会) was formed by volunteers from restaurants, inns, and hotels with the sole purpose of promoting tourism through Itoigawa's food culture. They landed on an interesting inclusion: yakisoba slathered with black squid ink from the Sea of Japan. Since squid can be caught throughout the year, delicious slimy black noodles are a perfect edible example of Itoigawa's food culture. The majority of dishes are topped with a tender egg and drizzled with creamy mayonnaise.
There are currently 24 restaurants in Itoigawa that serve this monochrome feast, but, according to reviews, the best-of-the-best can be found at Tsutoku Hanten. Be sure to wipe down top to bottom, otherwise you'll end up with teeth like a geisha from the Heian period.
White Yakisoba (ホワイト焼きそば)
From what historians know about Echigo Province's daimyo Uesugi Kenshin, it is clear that along with a pension for the drink, he was also a benevolent adversary. The story goes that when his nemesis, Takeda Shingen, was deprived of basic necessities by the neighboring Hojo clan, including salt, Kenshin was quoted to say "Give salt to your enemies." Wise words indeed.
In the spirit of the Dragon of Echigo, the city of Joetsu concocted "White Yakisoba", not only in honor of its patron daimyo, but for the infamous amount of snowfall that piles up on the streets and doorsteps each winter. The dish is a vibrant mix of local koshihikari rice-flour noodles and packed with local shrimp, scallops and, finally topped off with—the best type of garnish—a generous amount of melted cheesy white sauce.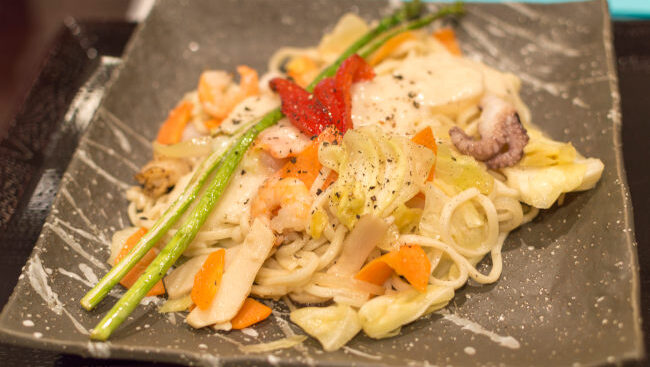 There are multiple locations around Takada to sample this staple dish, including Joetsu's Citizen's Plaza(市民プラザ). If the chance arises, give this savory meal a shot, raise a glass (or two) to its generous founder and catch a taxi home.
Red Yakisoba (レッド焼きそば)
The slopes of Myoko-Kogen are a Mecca for winter sports aficionados, but for locals, the famed Akakura hot spring (赤倉温泉) in Myoko City holds it own as a 200-year old sulfurous retreat.
After the successful yakisoba campaigns of Itoigawa and Joetsu, the residents of this mountain town created a startling offer that continues to surprise the bravest of gastrophiles. The end result is a crimson gourmet inspired by the name of its prized onsen: "赤" meaning "red". This, in turn, facilitated the creation of Myoko's own devilish mascot: Red-kun.
According to many brave souls, the taste is far from spicy. Just the opposite, in fact. The thickness of the noodles stems from the use of rice flour, which is crucial in absorbing the color of locally grown tomatoes and paprika. A generous portion of red sausage, onion, and bean sprouts are added in, and garnished with pickled ginger. The end result is a mild and succulent exercise in trusting your taste buds instead of your eyes.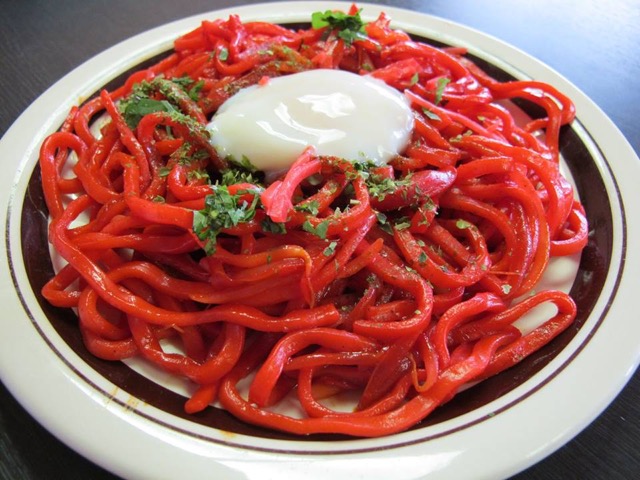 Although this duplicitous dish can be found at ten restaurants in the area, the classic original can be found at Miyoshiya, located at the end of Akakura's main street. After a long dip in the famed waters of Akakura, indulge yourself with an aesthetic and mild local dinner. However, should you want to kick it up a notch, there is an ample supply of hot sauce on every table.
Green Yakisoba (グリーン焼きそば)
The area of Uonuma has already established itself as the ideal Snow Country paradigm, but what many tourists fail to realize is that below the fertile soil, lies a sleeping monster: the dreaded Dokira! Some say he is a myth, but others believe that he's been around since the Jomon era, hence the dragon-like designs on rare pieces of pottery. Legend tells that his almighty reptilian body releases a powerful blast of energy, which, some say, is one reason that the rice in Uonuma is exceptionally delicious. It could also be why Yoshimiya Soba's owner, Keizo Otsuka, cooked up Uonuma's own lush contribution to keep up with his neighbors: Green Yakisoba.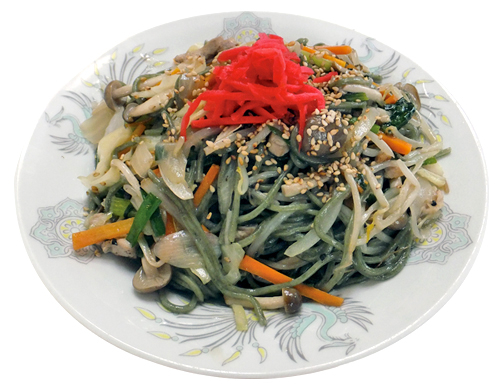 The pastoral tint of Green Yakisoba is a combination of rice flour and mugwort powder, which, apart from being known to induce lucid dreams, gives the customer the feeling of enjoying the miles and miles of green Uonuma fields. With chicken, cabbage, garlic, mushrooms, green vegetables, pickled ginger and a splash of vinegar included, each patron is sure to leave satisfied and grateful for the artisans in Uonuma. However, a warning to all patrons: it is also said that all those who fail to clean the green off of their plates suffer the wrath of Dokira in the form of week-long indigestion.
Feast for the Eyes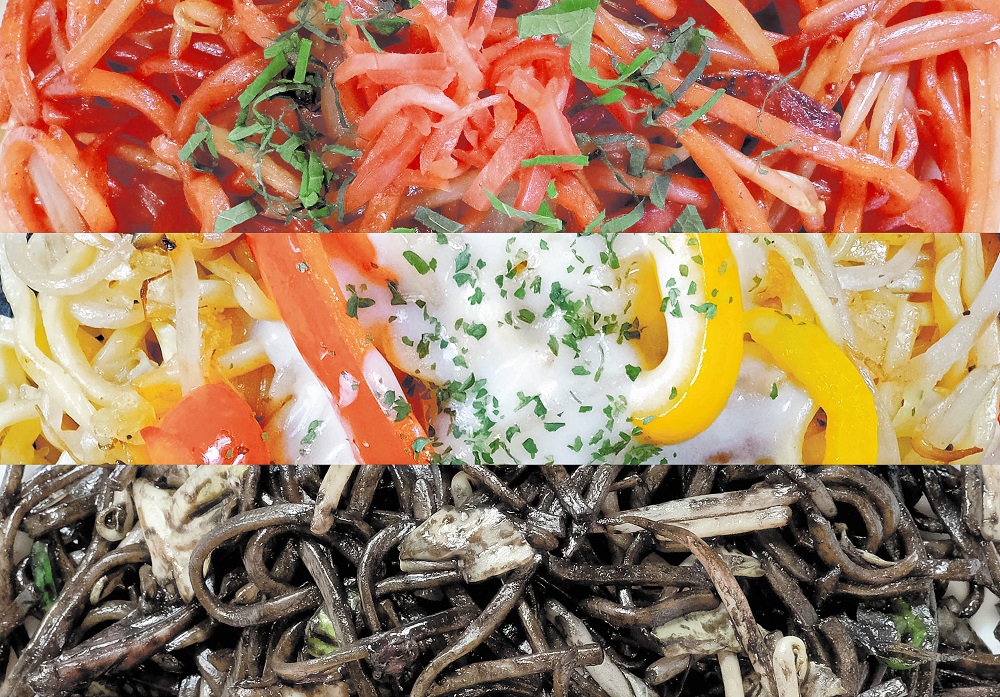 Creatively tweaking the usual color scheme is nothing new. Crystal Clear Pepsi, anyone? Purple Heinz ketchup? Blue Mountain Dew? Even changing the basic tone of paint in a room can put a fresh spin on things. If looking for a change of pace in the realm of B-gourmet, these four eye-grabbing creations are definitely a feast for the eyes and just as delicious as they look. And, regardless of how local the ingredients, how meticulous the process, or how unbelievably tasty they are on their own, kewpie mayonnaise is highly recommended.
---
Even though Joshua Furr is from North Carolina (home of bluegrass, flight and Pepsi), he prefers a life outside the U.S. Currently you'll find him in Warsaw, Poland.

He has a beautiful wife and two sons, all whom he forces to listen to Japan-based conversation and 80s music. Around lunch, he dreams about eating gyudon at Sukiya. When he's not spending time with his family, he's writing, teaching or tinkering with Adobe software.