Long ago, before there were 47 prefectures, the Echigo province (present-day Niigata prefecture) was governed by the powerful and righteous daimyo Uesugi Kenshin. He is known to historians, NHK-drama aficionados, role-playing nerds, and online gamers as a ferocious warrior who took Buddhism—and his drinking—very seriously. But who was he, and why he still so prominent?
GROWING UP WITH THE NAGAO
Born in the middle of Japan's tumultuous Warring States Period (1467-1615 ), Nagao Torachiyo —the first of his many names—was the youngest son of Nagao Tamekage, who was a military retainer (or vassal) of the current governor of Echigo.
Times were tough and life moved pretty fast. After the death of his father on the battlefield, Torachiyo's brother, Harukage, was placed in charge of the Nagao clan and young Torachiyo was shipped off to study at his Grandfather's temple, the magnificent Rinsenji at the tender age of seven.
From 1537 to 1544, a few things took place: Torachiyo changed his name to Kagetora, he filled up on Zen Buddhist teachings—particularly Bishamonten, the war god—and learned how to read, write, as well as develop military tactics.
These skills came in handy five years later, when, at the request of his worried family, teenage Kagetora was forced to wrestle control over the Nagao clan from his weak and incompetent brother. At the age of 19, he confidently strolled into the Nagao family castle, Kasugayama, as the new lord of the clan.
TAKING NAMES
A few years later, Kagetora made a shrewd and fortuitous deal that would lay the path for his future. The current Echigo governor, Uesugi Norimasa, was facing threats from armies outside Echigo and sought shelter at Kasugayama. As the Nagao clan were still vassals to the Uesugi, there was some obligation in the mix, but Kagetora smelled an opportunity. "Sure thing", agreed Kagetora, "but with some strings attached".
In exchange for providing shelter, Norimasa would A.) adopt Kagetora as his own son and B.) give him the title of "Lord of Echigo". Along with the new title, came a temporary new name: Uesugi Masatora, but the one that would really stick was his Buddhist monk name that came later: Uesugi Kenshin (謙 = ken, meaning "humility", 信 = shin, meaning "trust").
BROTHERS IN ARMS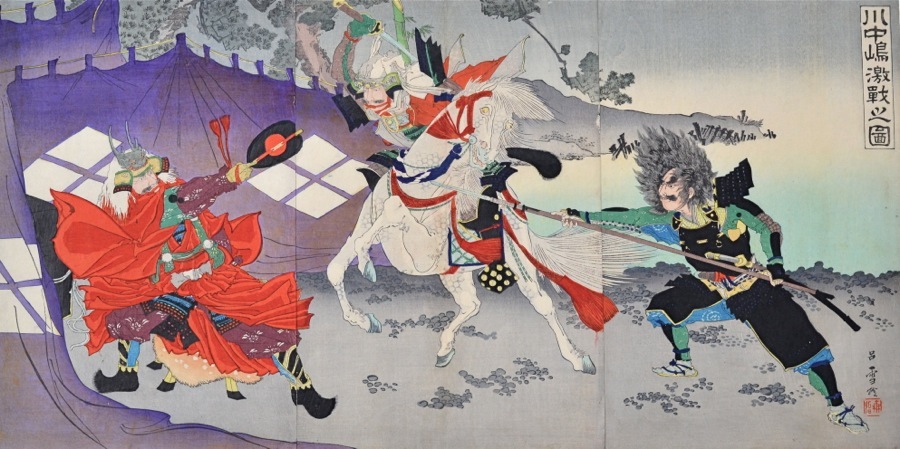 From that point on, keeping Echigo safe, sound and prospering was Kenshin's goal, which in turn spurned a lifelong rivalry with Takeda Shingen, the equally famous daimyo of the neighboring Shinano province (present-day Nagano prefecture). Their confrontations on the plains of Kawanakajima were the stuff of legends, especially the fourth battle. Apparently it was so epic, so bloody, so ripe for live-action portrayal that it earned the young lord the nickname "The Dragon of Echigo". Consequently, the battles at Kawanakajima were the source material for the 1969 NHK drama "Heaven or Earth" (天と地と), as well as the 1990 full-length film version that blew up the box office like a medieval mortar.
CUT DOWN IN THE PRIME
Unfortunately, while Kenshin was occupied with Shingen, an ambitious—and brutal—leader named Oda Nobunaga had also been busy slitting throats and settling down in the nation's capital of Kyoto. By 1576, Nobunaga had become Japan's most powerful daimyo and now had his sights on the fertile land of Echigo. The "Dragon" was happy to politely refuse. In 1577 at the Tedori River, Uesugi Kenshin clashed with Oda Nobunaga's forces in a battle that would not only be remembered as a major feat of military tactics, but also as Kenshin's last hurrah.
Riding high after his win at Tedori, Kenshin got to work on a follow-up campaign to ultimately stomp out this "Oda" problem, but he would never get that chance. On April 19, 1578, Uesugi Kenshin died from a seizure in his own bathroom at the young age of 49. As Oda Nobunaga was off the hook and apparently thrilled by this news, suspicion and mystery still surround Kenshin's death. The plot thickens since Kenshin was said to have composed his own Zen death poem soon before his demise. Judging by the first stanza, it is clear what was really on his mind:

Historians—and conspiracy theorists—posit two hypotheses about his premature end:
It was a result of his worrying consumption of sake, which led to stomach cancer…or
Oda Nobunaga sent a ninja to hide in Kenshin's bathroom and wait for that most vulnerable of moments to strike
Whatever the cause, Kenshin's death left a massive pair of military boots to fill and Echigo slowly succumbed to the tides of history. However, we can now retrospectively appreciate his deeds and his own ethical standards on and off the battlefield.
THE DRAGON LIVES
A familiar scene unfolds: a warrior gallops at full force with sword unsheathed, his dour face glaring underneath a flowing white head scarf. Held every sweltering August in Joetsu, the eponymous Kenshin Festival is as close to a real Warring States experience as you'll get. However, should you want something less dramatic, professional drinkers can rejoice and fill their cups at the Echigo Kenshin SAKE Festival (same name, but an entirely different event) in the crisp October air on Joetsu's main street.
Despite death, Uesugi Kenshin's influence is very much alive in Niigata. To experience it for yourself, simply hop a train and slip backwards through time into the land of Echigo. Be sure to sample the equally impressive White Yakisoba (ホワイト焼きそば)!
RECOMMENDED UESUGI KENSHIN SITES
Kasugayama Castle Ruins
1743 Daizu, Joetsu City, Niigata Prefecture
45 minutes walk west from Kasugayama Station
Kasugayama Shrine
located at the base of Kasugayama Castle Ruins
Rinsenji
1-1-1 Nakamonzen, Joetsu City, Niigata Prefecture 943-0801
30 minutes walk from Kasugayama Station
---
Even though Joshua Furr is from North Carolina (home of bluegrass, flight and Pepsi), he prefers a life outside the U.S. Currently you'll find him in Warsaw, Poland.

He has a beautiful wife and two sons, all whom he forces to listen to Japan-based conversation and 80s music. Around lunch, he dreams about eating gyudon at Sukiya. When he's not spending time with his family, he's writing, teaching or tinkering with Adobe software.